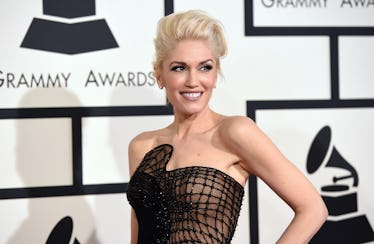 Gwen Stefani Just Shared The Most Awkward Detail About Blake Shelton's Ex-Girlfriend
Jason Merritt/Getty Images Entertainment/Getty Images
It's no secret that Gwen Stefani and Blake Shelton come from completely different places in terms of music. He's all about his country music, and she's a mix of pop, ska, and rock. But way before the two musicians were an item in the romantic sense, they crossed paths... in Shelton's ex-girlfriend's bedroom. Well, sort of. The topic came up during an appearance on Jimmy Kimmel Live and Gwen Stefani's comments on Blake Shelton's ex-girlfriend are just plain awkward.
So, here's how it went down…
Basically, Stefani was chatting it up with Kimmel about how she entered the music scene when the subject of her relationship with Shelton came up. During the interview, Stefani talked about how her music tastes don't always align with Shelton's.
Stefani grew up on all kinds of music, from ska and reggae to alternative rock and pop. Meanwhile, Shelton is a country fan through and through. There's one genre they do have in common, though:
I think the one place we cross over is that whole, like, yacht rock '70s love songs. When I was like 'Yeah, Bread is one of my favorite groups ever,' he'd be like, 'What?! I thought you were like a rock/ska girl.' He didn't even know what ska is.
Stefani then revealed that she's tried to get Shelton to branch out and listen to ska and reggae. And that's when she dropped a few comments about Shelton's ex-girlfriend:
He did tell me that he dated a girl for like three months that had my face all plastered over her whole bedroom. So, that's kind of weird, right?
Yep, weird, indeed. But Stefani tells it with a smile and kind of chuckles her way through it, so she can't be that freaked out by it.
See the Kimmel-Stefani exhange for yourself:
Kimmel, though, agreed that the ex-girlfriend bit was "really weird." And then he came up with an even stranger scenario:
You know what you ought to do? This is just an idea. I hope Blake is not watching, so you can surprise him. Find out what she looks like and plaster her face all over your bedroom.
Um, how about no? Stefani took the suggestion in stride, laughed it off, and added, "Oh my God! That's so gross!"
Stefani and Shelton met in 2016 while working on The Voice. As coaches, the two competed against each other for the top talent on the show and fell for each other in the process.
Stefani and Shelton have pretty much been inseparable since they met. Now, more than two years later, there's even talk of marriage.
In an April 10 appearance on The Ellen Show, Stefani said she thinks about marriage quite a lot:
You know what? I love weddings, the kids love him. I think about it all the time.
Stefani is mom to three sons with former husband, Gavin Rossdale. She and Rossdale were married for 14 years before calling it quits in 2016. Shelton was previously married to singer Miranda Lambert.
Stefani is currently preparing for a residency in Las Vegas. Some of the proceeds from the show, which is aptly titled Gwen Stefani: Just a Girl, will benefit Cure 4 Kids. Stefani has partnered with Live Nation Las Vegas and Caesars Entertainment for the charity.
Shelton, on the other hand, is still making his moves on The Voice where he's a reigning champion. He's won the competition six times!
There's no official word yet on whether the two will tie the knot. Here's hoping Stefani and Shelton find their way to married life, though! Love those two!