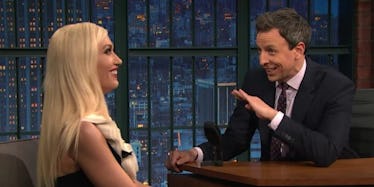 Gwen Stefani Had No Idea Who BF Blake Shelton Was Until 'The Voice'
YouTube
Gwen Stefani was apparently totally unaware her boyfriend, Blake Shelton, existed before "The Voice" debuted in 2011.
Let me just remind everyone Blake Shelton is a very famous country singer, whose single "Austin" was the number one country song on Billboard for five weeks in 2001.
In 2003, his second album, The Dreamer, went gold, and in 2004, his third album, Blake Shelton's Barn & Grill, went platinum.
I'm just saying, Blake Shelton was around for a minute before "The Voice."
But apparently Gwen Stefani was a little busy not being a hollaback girl at that point in her life to notice any of that, or so she told Seth Meyers on Tuesday's episode of "Late Night."
When Seth mentioned Gwen didn't have much knowledge of country music before she joined "The Voice" in 2014, she said,
I didn't even know that Blake Shelton existed in the world. I had no idea!
Girl. What?
I mean, to be fair, I also did not know Blake Shelton existed before "The Voice."
But I'm not the one who is dating, and possibly engaged to Blake Shelton, which I feel is a crucial difference.
Gwen did assure Seth she is well acquainted with Blake Shelton, the singer, nowadays.
She said,
Trust me, I am like the biggest Blake Shelton fan ever now. I know all of his music.
And she also did make him look pretty good when she was gushing about how much she loves him, saying,
I love Blake. He's the most incredible guy. Everybody loves Blake, there's no way around it. He's just a sparkly, happy, amazing person.
Hopefully that praise scored some points back with Blake.
Gwen first met Blake when she joined "The Voice" as a coach in 2014.
It was rumored the couple hired a celebrity wedding planner last summer, presumably so they could get married, but we haven't heard anything about a wedding since.
Gwen recently divorced Gavin Rossdale, her husband of over 10 years. When asked by Ryan Seacrest if she would ever remarry, her answer was pretty ambiguous.
So who knows? At least it didn't take getting married for Gwen to listen to Blake's music.