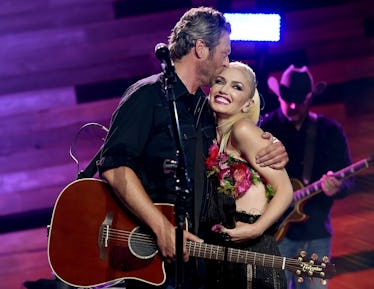 Gwen Stefani Opened Up About The Possibility Of Marrying Blake Shelton & I'm Screaming
Kevin Winter/Getty Images Entertainment/Getty Images
It's been well over two years since Gwen Stefani and Blake Shelton started their whirlwind romance. And they've proven to us time and time again that their devotion to each other is completely unshakeable. Seeing their relationship blossom and their love for each other get stronger all the time leaves many fans to wonder one thing: Are Gwen Stefani and Blake Shelton getting married? From a distance, it looks like nuptials could definitely be in the cards. But how do Stefani and Shelton feel about it?
In an appearance on The Ellen Show, Stefani broke her silence and addressed the possibility of marrying Shelton:
It's weird because, I get nervous when you talk to me about him ... I don't know why, but for some reason, the cameras are rolling and I shouldn't say something. So if I say, 'We are [getting married],' then we are, and if I say, 'No, we're not,' then that would be sad, too.
It's interesting to see her so openly admit that she's putting some thought into marriage. She even asked Ellen DeGeneres for advice about what she should do (which was likely in good humor, but let's just run with it, OK?). Of course, DeGeneres — who married Portia de Rossi in 2008 — really and truly delivered as she so often does.
"I love being married," DeGeneres gushed. "I think you should get married."
Leave it to the one and only Ellen DeGeneres to encourage someone like Gwen Stefani to hurry up and get married. Sounds like DeGeneres is as much a Blake-Stefani fan as anyone. I mean, who wouldn't want to see those two make it official? They're great together and seem supremely happy, so why not?
Thanks to DeGeneres breaking the ice a little bit, Stefani began opening up some more, even talking about how much her kids — Kingston, Zuma and Apollo — love Shelton, and how she actually thinks about marriage quite often.
"You know what? I love weddings, the kids love him. I think about it all the time," she quipped.
Stefani shares her three sons with musician Gavin Rossdale, to whom she was married for 14 years. Stefani and Rossdale separated in 2016 and it was only shortly after that Stefani began a romance with Shelton. Stefani and Shelton met on the set of The Voice, where both judged up-and-coming singing talent during intense competition. All that competitive energy had to be resolved somehow, it seems, as the two superstars just couldn't stay away from each other. Prior to dating Stefani, Shelton was married to country singer Miranda Lambert.
While Stefani has since stepped away from The Voice, Shelton is still going strong. He somehow manages to find incredible talent season after season and fans love to see him go to to toe with fellow judges. During his run on the show, he's been a pretty fierce and victorious judge, proving that he knows his way around the music industry. He garnered his sixth victory on Season 13 of The Voice with singer Chloe Kohanski.
Stefani, on the other hand, is currently preparing for a residency in Las Vegas. The announcement came early April 10 that the former No Doubt songstress would be showcasing her talents in Gwen Stefani: Just a Girl at the Zappos Theater at Planet Hollywood Resort & Casino. What an exciting time for her!
But Stefani isn't after her own success. She's actually partnering with Live Nation Las Vegas and Caesars Entertainment to donate $1 per sold ticket to Cure 4 Kids. So amazing and admirable of her! How can you not root for her?