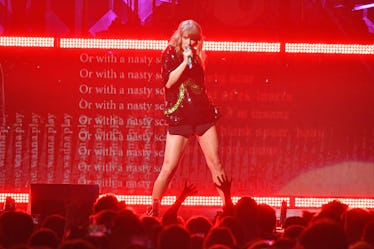 Cops Warned Taylor Swift About A Gun-Seeking Man Who Thinks He's Her Boyfriend
Dia Dipasupil/Getty Images Entertainment/Getty Images
Taylor Swift has an unfortunate situation to deal with this week. A gun-seeking New Hampshire man said he's Taylor Swift's boyfriend, arousing alarm for law enforcement sources in the state. Officials have apparently tried to contact Swift's team to warn her.
Law enforcement officials in New Hampshire told TMZ that a 58-year-old man had been in a local station for voluntary questioning on an unrelated case. While there, apparently, he mentioned seeking a firearm to protect the singer while in Africa, though it's not clear why he thought she'd be there. The man claimed to be her boyfriend, apparently showing off texts he claimed were from her, with a "Taylor Swift" shown as the recipient.
Officials reportedly got suspicious when the man also asked how many states he could legally drive through carrying a concealed weapon. (Seriously, who asks that question at a police station?) It's unclear from the report if the man already had a gun and a concealed carry permit, or if he was seeking one.
Per TMZ, cops weren't able to arrest the man on the spot, apparently, because simply saying that you want a gun to protect someone else doesn't constitute a crime. (It's not necessarily comforting, though.)
This latest incident is definitely not a first; Swift has had her fair share of stalkers and crazed fans over the years.
In July 2016, a man apparently showed up at her mansion in Westerly, Rhode Island, claiming that she was supposed to marry him (she was dating Tom Hiddleston at the time). Swift's security team stopped him at the gate and the authorities took the man to the hopsital for a mental evaluation while his car was towed from the scene.
Then in March 2017, a man carried out an aggressive campaign of stalking her at her $20 million New York penthouse in an apparent attempt to meet her. After somehow gaining access to the building (which she shares with the likes of Orlando Bloom), the stalker rang her doorbell for an hour at a stretch and even went on her roof. This was outside of calling her management company 59 times in a row. (He was later arrested, and in September 2017, was deemed unfit to stand trial due to his mental state.)
In an October 2014 interview with Esquire, Swift talked about her decision to hire a security team for her own personal safety, and protection from stalkers had a lot to do with it. She and her team even keep a binder full of all the people who've made serious threats against her. She told the magazine,
Because just the sheer number of men we have in a file who have showed up at my house, showed up at my mom's house, threatened to either kill me, kidnap me, or marry me. This is the strange and sad part of my life that I try not to think about. I try to be lighthearted about it, because I don't ever want to be scared. I don't want to be walking down the street scared. And when I have security, I don't have to be scared.
But the stalking hasn't seemed to dim Swift's stars, if her recent outputs are any indication. She just released a new collab with Ed Sheeran and Future last week. And Reputation was the best-selling album of 2017, selling close to two million physical copies, per Forbes, and has enjoyed its moment in the sun on Billboard's No. 1 spot.
And it doesn't look like her love life is suffering too much, either. Her relationship with Joe Alwyn seems to be going pretty swimmingly. You go, Tay.