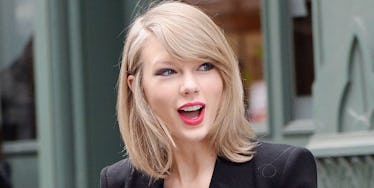 Taylor Swift's Stalker Who Got On Her Roof And Rang Bell For An Hour Arrested
REX/Shutterstock
No one ever said being a world-famous celebrity was easy.
Think about it. Everyone knows whom you are and what you look like. Your net worth is easily Googlable. People go to extreme lengths to narrow down the precise location of one of your many luxury homes.
Not to mention, your grueling work schedule makes you wonder if you're going clinically insane.
All of that is just the icing on the cake. There are always the scandals and nonstop hounding from the camera-wielding paparazzi constantly driving you mad.
Life can't be easy for any celebrity no matter how awesome their lives may seem.
That point was proven after a crazed Taylor Swift fan allegedly gained access to the luxury building where her $20 million penthouse is located in NYC.
According to TMZ, a man named Mohammed Jaffar was so damn obsessed with Taylor Swift he put his freedom on the line just to try to get a peek at her.
Jaffar reportedly showed up at the 27-year-old's building, where Orlando Bloom also lives, numerous times over the last few months in the hopes of meeting her.
After failing time and time again, the Swift-obsessed alleged stalker tried any which way he could to gain access to her penthouse-level apartment. The report states Jaffar was caught hanging out on the roof of her building from 10 pm-2 am.
The 29-year-old stalker also rang her doorbell nonstop for an hour.
Eventually, T. Swift's alleged stalker was caught and arrested by the NYPD. He was charged with stalking and burglary and is currently being held on a $20,000 bond.
Listen up, Mohammed. You can't just run around stalking celebrities, man. Didn't you see what happened to Kendall Jenner's stalker?! It NEVER ends well, and you just look totally insane.
Your chances of meeting Swift backstage at one of her sold-out shows are way higher. Instead, you're stuck with a $20,000 bill and maybe even jail time if you didn't learn your lesson.
Citations: Taylor Swift: Obsessed Fan Busted Hangin' On Roof, Buzzin' The Bell (TMZ)