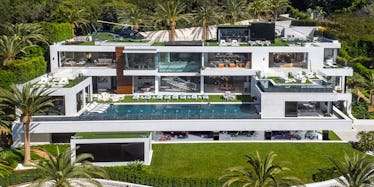 This Tour Video Of America's Most Expensive Home Laughs At Your Bank Account
YouTube
We all have material goals. Some of us just forget we actually need to work toward them in order to achieve them (otherwise they're dreams, not goals).
Don't you want to own a collection of sprawling mansions and a fleet of luxury vehicles? As humble and reserved as we all like to say we are, it's no secret we all enjoy owning nice things.
Since we were little tots, we hoped our friends would one day ask us this.
Unfortunately, we're all older now, and people like to pretend McDonald's is poison.
Speaking of "nice things," have you seen the most expensive home in America? It just might inspire you to log out of your Netflix account, put down your smartphone and get to work.
America's most expensive home is located at 924 Bel Air Road in Los Angeles, California, and it just hit the market with a whopping asking price of $250 million.
That may seem like way too hefty of a price tag for anything, but a new video of the property is all of the proof you need to realize it's totally worth it!
The 38,000-square-foot mansion boasts 21 bathrooms, 10 lavish guest suites and two master suites. The home also features a 40-seat 4K Dolby Atmos Theater and a bowling alley.
Of course, there are five full bar areas positioned throughout the home so you can get your drink on immediately after lounging around at your in-home wellness spa.
The buyer of this incredible property would have access to a complete fitness center and three kitchens. Yeah, that's not counterproductive at all!
The home, designed by developer Bruce Makowsky, is inspired by the stunning architecture and environment one would experience on a luxury megayacht.
According to People, Makowsky spent plenty of time aboard yachts before he had this home built. He simply needed to experience the life of a billionaire before building a home fit for one.
A press release about the home states,
This home was curated for the ultimate billionaire who wants the best of everything that exists in life. Until now, the ultra-luxury market was void of homes that even came close to matching the level of mega-yachts and private jets that billionaires spend millions of dollars on every year. There are hundreds of new billionaires created each year and they are increasingly setting their sights on this coveted enclave of California for everything the state has to offer.
Are you sold yet?
If you need more convincing, the $250 million home also features a massive wine cellar, 10 cars, 12 motorcycles and one helicopter that come along with the sale of the property.
You'll obviously need some help looking after all of your valuables so there's a seven-person staff on hand at all times, too. There's no built-in McDonald's, though. Sorry, folks!
Check out the video above, and prepare to hate yourself.
Citations: Grab Your Checkbook! The Most Expensive Home in America Hits the Market for $250 Million (People)