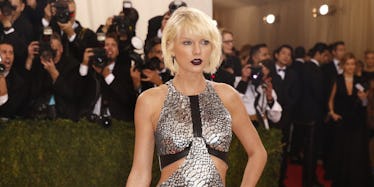 Obsessed Fan Reportedly Drove To Taylor Swift's House To 'Marry Her'
REUTERS
According to Daily Mail, one deranged fan showed up at Taylor Swift's Rhode Island home on Wednesday, allegedly claiming he wanted to marry her. Apparently, the unnamed man's plans were quickly squashed when he realized Swift is currently dating Tom Hiddleston, TMZ reports.
Did it not occur to this guy to do a little research before rushing to T Swift's home and dropping down on one knee? Reportedly, police had to escort the man off the property before he was "transported to a hospital for mental evaluation." To add insult to injury, his car was later towed from the scene as well.
Although it's clear Taylor Swift had several celebrity guests over at her home for the Fourth of July weekend, it isn't certain at this time whether she was home when the stalker arrived. Daily Mail reports she and her new beau were seen at LAX on Wednesday getting on a flight to Australia where Hiddleston will be filming "Thor: Ragnarok."
Let's just hope Hiddleswift locked up her houses before jetting off to the land down under.
Citations: Obsessed fan shows up at Taylor Swift's Rhode Island home to 'marry' her and 'cries because she is dating Tom Hiddleston' (Daily Mail)