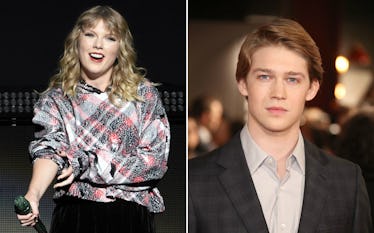 Taylor Swift & Joe Alwyn Are Reportedly Taking Their Relationship To The Next Level
Tim Mosenfelder / Mike Marsland / Contributors / Getty
No one loves love more than me. No one loves Christmas more than me. And no one loves Taylor Swi— actually, someone probably loves Taylor Swift more than me, but that doesn't mean I'm not excited for her. Taylor Swift and Joe Alwyn's relationship is heading to the next level this holiday season, and fans are here for it. I can't imagine what it feels like to celebrate the holidays as Swift's boyfriend, but I bet it's pretty freaking awesome. Either way, it looks like Alwyn is about to find out.
According to sources, Swift and Alwyn are planning on spending the holidays together, which we all know is a big freaking deal. I mean, you don't just spend the most glorious time of the year with anybody. According to an insider who spoke with People, the couple is "happier than ever."
The source said, "She has been more busy with work and traveling, but Joe continues to be supportive and great."
It's not clear if the couple is planning on bringing in the new year in Alwyn's hometown of London, or somewhere in the states with Swift's family. My guess is with her private jet and everything, they can probably make both locations work.
The source added that Alwyn will be traveling with Swift during her tour next year. They said, "Joe will travel with her as much as possible. Taylor is still very happy with him."
It seems like it.
Fans freaked out on Twitter when Swift and Alwyn were spotted swaying and kissing during Ed Sheeran's performance at the Capital FM Jingle Bell Ball in London.
If you squint really hard and believe in yourself, you can just make them out in the video below.
Even more recently, they were spotted holding hands while walking into the iHeartRadio's Jingle Ball concert hosted at Madison Square Garden in New York City.
One insider told People,
Taylor and Joe are spending time together in N.Y.C. Taylor was in the best mood. She was smiling and waving to fans. Joe stayed for the whole show and they later left together as well. They are staying at Taylor's N.Y.C. apartment.
Ah, don't you love it when people say celebrities have "apartments," when what they really mean is massive, full-on brownstones with square footage that could probably fit my childhood house, garage, and driveway inside of it?
I digress.
More importantly, sources think Alwyn could be the "real deal." A source previously told People that this relationship stands out and feels different for Swift. The insider claimed,
It's a great relationship that everyone hopes will last. Joe could definitely be the one. Their relationship is very different from Taylor's past ones. Just like Taylor, Joe is a homebody. He loves being an actor but doesn't like the celebrity part of it. It's pretty special to find someone you're on the same page with.
Fans have scoured Swift's Reputation album for relationship clues and insider details on her romance with Alwyn, though she has left a lot up to the imagination. For some reason, Swift has made the clear decision to keep this relationship way more private than past relationships.
Still, we hope she gives us something to obsess over around Christmas. Maybe a sneaky Instagram photo of presents under the tree? A cryptic tweet about her very own Santa Baby? Or how about just a straight-up video kissing Alwyn under the mistletoe? We're not picky. Any of the above will do.
Merry Christmas and happy holidays to these two blue-eyed, blonde-haired beauties.
Check out the entire Gen Why series and other videos on Facebook and the Bustle app across Apple TV, Roku, and Amazon Fire TV.