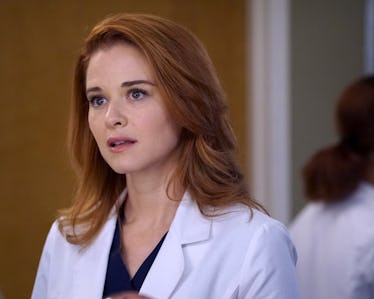 'Grey's Anatomy' Season 14 Finale Spoilers Already Have Fans Crying Over April
ABC/Eric McCandless
Cue the waterworks, because fans only have two more Grey's Anatomy episodes with fan-favorites April and Arizona. We've known for months that Sarah Drew and Jessica Capshaw will be leaving the series after Season 14, but now that we're just two episodes away from their departure, it's finally starting to feel real. As if the April and Arizona news weren't bad enough, Shonda Rhimes is about to make your Grey's heartbreak even worse: Grey's Anatomy Season 14 finale spoilers seem to suggest that April won't be making it out of Grey Sloan Memorial Hospital alive. Hey Shonda, while you're busy breaking us in two, is there any other bad news you want to pass along?
While Arizona's story line is tying itself up neatly — she'll very likely be taking he daughter Sophia to New York to be with her mom Callie — April's is full of drama. April has struggled with her self-identity this season, so some fans thought that her story might end tragically in suicide, but the teaser for Season 14's penultimate episode suggests otherwise. Don't get too excited, though: The trailer for "Cold As Ice" looks bleak, especially for April, who goes from doctor to patient in about two seconds. And we all know that getting admitted as an ER patient hasn't led to the greatest outcomes for this group of doctors.
In the teaser, Owen stumbles upon something (or someone) and yells out April's name, suggesting that he's found her lying unconscious on the ground. The next thing we see is April on a gurney with a breathing tube strapped to her mouth — and she seems very, very unconscious. Meredith insists that the team is "not going to lose her," but when she sees Alex later, she starts bawling when he asks what's wrong. Meredith is dark and twisty, so she wouldn't be crying if April is going to be OK, right?
At the end of the trailer, things get even worse: Jackson rushes into the operation room and throws himself on April's body, and his co-workers have to physically pull him off. It seems like April has flatlined, so will the doctors be able to revive her? I have so many questions that need to be answered ASAP.
While it seems like April is on the brink of death, some fans on Reddit believe that this is the best possible ending for her character. For many, watching April leave the hospital and abandon her daughter Harriet would be totally disingenuous to the character we've come to love over the past decade. Said user Inn0c3nc3:
I sadly hope after seeing that preview April doesn't survive. I feel like it doesn't fit her character and will bug the crap out of me if she leaves Harriet or takes her away from Jackson. They could magically prove me wrong and somehow make it fit, but knowing Sarah Drew is leaving, I honestly feel like the only fit for April is to die.
Plus, as user bmalon5 noted, Grey's Anatomy hasn't really killed off a major character since Derek died in Season 11:
Idk its been a while since they killed someone off. And what are the chances of a preview looking like someone is going to die and then not dying 2 years in a row. Last year looked like stephanie was going to die but she didnt.
Amid all this bad news, there's at least one Grey's Anatomy Season 14 finale spoiler that seems positive. After years of waiting, Jo and Alex will finally get married in the finale, and from the looks of Entertainment Weekly's photos, their entire Grey Sloan family is dressed up to celebrate. A happy Jolex wedding is the only thing that could distract me from April's potential death, so I'm keeping my fingers crossed that things go off without a hitch.
The Grey's Anatomy Season 14 finale airs Thursday, May 17 at 8 p.m. ET on ABC.