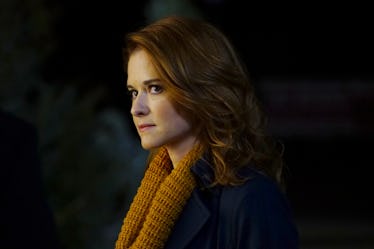 Fans Are Convinced April Is Going To Leave 'Grey's' In The Most Heartbreaking Way
ABC/Richard Cartwright
Ever since news broke that Arizona and April are leaving Grey's Anatomy at the end of this season, dedicated fans have spent hours trying to figure out how the show plans to deal with their departure. Obviously, Grey's isn't afraid to kill off a character — let's pour one out for George, Derek, Lexie, Mark... the list goes on — so it's not totally off-base to worry that April and Arizona will suddenly contract a life-threatening disease in the next few weeks. That being said, will April die on Grey's Anatomy? Some fans think that Shonda Rhimes will deviate from her usual kill-someone-off-in-the-finale plan, but only slightly: rather than have April discover a stage 4 brain tumor or get run over by a bus, some believe that April will die by suicide. There are still eight episodes until the finale, but even thinking about the possibility of April drying is making us emotional.
The theory that April commits suicide in the Season 14 finale first originated on Reddit, where one user laid out the many reasons why suicide makes sense for April's character. According to justessforall1, April is clearly spiraling into depression, making her "feel like she has a loss of control on her life. When that happens, the brain starts doing things that it never did before. Crave alcohol, drugs, sex, it makes someone irritable, angry, and other behavioral changes that are clear in April." April has also recently been questioning her faith — her strong belief in Christianity has guided her and influenced her character since she first arrived in Season 6 — which may affect how she sees her place in the world and "take a serious toll on her mental health."
While April's death would undoubtedly be devastating, fans on Reddit believe that, if done correctly, it could be incredibly meaningful to the show. By highlighting the struggle many face with mental illness, April's death on Grey's Anatomy would "show viewers that suicide is real, and that if you see someone spiraling, talk to them, and get them help." The show isn't afraid to tackle controversial subjects — Callie and Arizona were an openly gay couple on network TV far before that was considered "acceptable" — and many believe that mental health should be the next topic discussed with the show's massive fan base. According to the American Journal of Psychiatry, suicide is more common among female physicians than any other group of Americans, so if April were to commit suicide, Grey's producers would (and should) be able to engage with a real issue that's common among surgeons. As much as I love another mysterious disease, turning toward real social change seems like a valuable step for Grey's Anatomy to take in Season 15.
No matter what happens with April, she'll be leaving the hospital on good terms (and so will the actress who plays her, Sarah Drew). According to Grey's Anatomy co-showrunner Krista Vernoff, the decision to say goodbye to April and Arizona was strictly creative.
The characters of Arizona and April are permanently woven into the fabric of Grey's Anatomy thanks to the extraordinary work of Jessica Capshaw and Sarah Drew. As writers, our job is to follow the stories where they want to go and sometimes that means saying goodbye to characters we love. It has been a joy and a privilege to work with these phenomenally talented actresses.
Since the news of her Grey's departure broke on March 8, Drew has signed on to the CBS reboot of Cagney & Lacey. Drew will be playing the co-lead, Cagney, a police detective who works alongside her partner Lacey (Michelle Hurd) to keep Los Angeles safe. Before being revived in 2018, Cagney & Lacey aired on CBS from 1981 to 1988, winning two Best Drama Emmys and six Lead Actress in a Drama Emmys. Drew was never nominated for her work on Grey's Anatomy, but if the reboot of Cagney & Lacey is as successful as the original, expect to see Drew at every awards show in the near future.