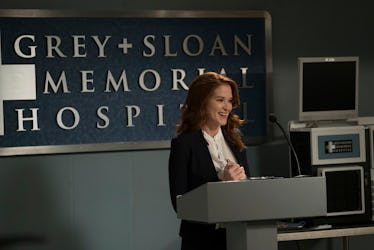 The Latest 'Grey's Anatomy' Trailer May Reveal A Tragic End For April
ABC / Byron Cohen
It may finally feel like spring outside, but the thought of May also just reminds me that TV seasons are coming to a close and, in the case of Grey's Anatomy, we're that much closer to Sarah Drew and Jessica Capshaw's departures from the series. We've known about the women's impending exits since March, but it was easy to pretend that they would stick around if we just ignored the fact that their characters April and Arizona are on the way out. Now with only two episodes left in Season 14, we finally have a clear idea about how the two will leave the show, but the Grey's Anatomy Season 14 Episode 23 trailer hints that, for April, the end may not be pretty.
Throughout Season 14, we've watched April spiral out of control by struggling with her faith, living apart from Jackson, and partying hardcore with the interns to feel better about herself. Upon news of Drew's upcoming exit, all of these signs led fans to believe that April's end would be one of self-destruction, and viewers have long suspected that, while Arizona would likely leave the hospital for another job opportunity, April would die. The promo for Season 14's penultimate episode, "Cold as Ice," has only added fuel to this kind of speculation.
The teaser shows Owen calling for April outside and then narrowing in on something below him, suggesting that April is lying unconscious underneath him. What?! What happened between this week's episode and next's to have her end up in a ditch somewhere?
The rest of the promo confirms that April is the doctors' main case in the episode, showing shots of her in surgery and Meredith insisting to her colleagues that they won't lose her. Such confidence seems to have shattered by the time she sees Alex, as Meredith breaks down when he asks what's wrong. To top it all off, the teaser ends with Jackson rushing into the operation room and throwing himself on April's body, which seems to have flatlined if you peek at the machines behind him.
Um, so where are your spoiler alerts, ABC?
Clearly, the network isn't very concerned about keeping what fans basically already knew secret. Several viewers also guessed Arizona's fate correctly, as May 3's episode showed her calling ex-wife Callie and telling her that their daughter needed to be in New York with both Arizona and Callie. The logline for the upcoming "Cold as Ice" also divulges that the hospital's former head of fetal surgery, Nicole Herman, will return, approaching Arizona about a new opportunity. Check "exit for job and/or family reasons" off your Bingo cards!
The intense promo seemingly depicting April's death comes right as Ellen Pompeo's explanation of Shondaland deaths is circling the internet. In an interview with Entertainment Tonight, Pompeo revealed about Grey's Anatomy actors:
You only get killed off when your behavior is bad. If you're a nice actor, you die nice.
Surprisingly, Pompeo confirmed in the interview that Capshaw and Drew were each receiving nice endings, saying:
Yeah, these endings aren't tragic.
Um, do you remember filming this particular episode? It looks quite heartbreaking to me. Meredith doesn't cry about the little things, right?
At this rate, it seems that Drew's exit will officially happen in next week's episode, while the details of Capshaw's ending may be saved for the season finale the following Thursday. According to Entertainment Weekly, the finale also plans to cover Jo and Alex's wedding, but I might be too bummed about April to enjoy it. I'm definitely invested in seeing how her end is handled since Pompeo insists that it isn't tragic, but I'm prepared to disagree with her.
Grey's Anatomy returns on Thursday, May 10, at 8 p.m. ET on ABC. Season 14 ends on Thursday, May 17.