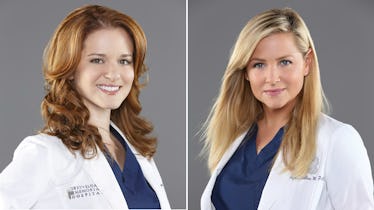 'Grey's Anatomy' Fans' Tribute To Sarah Drew & Jessica Capshaw Will Warm Your Heart
ABC/Bob D'Amico
Since the news first broke that Arizona Robbins and April Kepner, played by Jessica Capshaw and Sarah Drew, will be leaving Grey's Anatomy after Season 14, fans have been sending lots of love their way. But on Monday, fans in Los Angeles went above and beyond — literally — by sending the stars an airplane banner that said "We <3 Sarah Drew & Jessica Capshaw." The touching Grey's Anatomy fans' tribute to Sarah Drew and Jessica Capshaw proved that there's no fandom like Grey's fandom, and the actors were quick to thank their immensely supportive viewers for always believing in their characters, even though all the ups and downs (um, like that musical episode).
The idea for the banner originally came from fans who aren't ready to give up on Arizona and April just yet. On March 13, one intrepid fan started a GoFundMe to raise money for an aerial banner to fly over Prospect Studios, the set where Grey's Anatomy is filmed. "If we want to increase our chances of getting Sarah and Jessica back, we really need to step up our game," reads the original GoFundMe description. Within days, the fund had raised over $1,000 thanks to hundreds of devoted fans who donated a spare $5 or $10.
While the plan to get April and Arizona back may not have worked out (although it remains to be seen!), the banner definitely caught Drew and Capshaw's attention. Both actresses posted on Instagram to thank fans for the love.
"Can you believe our fans right now?" asks Drew in one of her five (FIVE!!!) posts about the banner. "I cannot believe our fans right now," says Capshaw. "We're going to cry. This is so amazing, you guys are the best fans we could ever, ever ask for," adds Drew. Drew managed to get a close-up pic of the banner, which she shared in another Instagram post.
At the very least, these fans have some pretty good timing: from the duo's many posts, it seems like they were filming while the banner flew overhead. In Capshaw's post about the surprise tribute, she's dressed pretty casually, but Drew is wearing her hospital scrubs. While it's possible that the two were just hanging out on set when they discovered the commotion above — hey, those scrubs are comfy — the scrubs and full makeup suggest that Drew, at the very least, stopped mid-scene. Paging Dr. Kepner: there's something outside that needs your attention.
According to the GoFundMe page, the banner stunt was inspired by fans of The Young & the Restless. In 2011, The Young & the Restless fans "paid for an aerial banner to fly over CBS studios, showing their support for Daniel Goddard, who was to be killed off." The protest worked, and Goddard was brought back "as a ghost who haunted his grieving wife," according to Bustle.
While a Denny returning as a ghost situation is possible for April and Arizona, fans are worried that an end for either character would be very, very real. Arizona's ex Callie Torres (Sara Ramirez) moved to New York with their daughter during the Season 12 finale, so many fans think that Arizona will be headed east at the end of Season 14, giving her character something close to a happy ending. For April, on the other hand, things don't look as great. One fan theory suggests that April will commit suicide, breaking our hearts into millions of tiny little pieces — Shonda Rhimes' specialty. The consensus seems to be that April will die in one way or another, leaving fans grieving for seasons to come.
No matter what happens, we'll always have Arizona and April. And the amazing videos of this aerial banner.