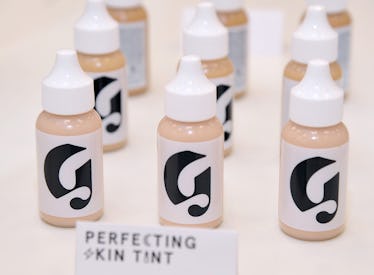 ALL Of Glossier Is 20 Percent Off For Black Friday, Meaning Boy Brow & Milky Jelly Are Under $15
John Sciulli/Getty Images Entertainment/Getty Images
If Instagram-stalking Glossier has taught me one thing, it's that there is nothing cooler than a fresh-faced, no-makeup makeup glow. It wasn't until the Glossier Black Friday 2018 sale was announced, though, that I realized there was, in fact, something way, way cooler: saving money while achieving said fresh-faced, no-makeup makeup glow. Who doesn't love saving money, right? Glossier agrees, and that's why they made sure their Black Friday savings — which are mind-blowingly good this year — could help us achieve cool-girl skin for less.
Open a friend's makeup back, give her vanity a quick scan, and I practically dare you to not find at least one Glossier item. The brand has seriously taken over, and I'm honestly more than OK with it. I admit to being a skeptic when it came to the brand at first — what can I say, your girl loves a heavy full-face beat! — but after experiencing how seamlessly the Stretch Concealer sank into my skin while still providing enough coverage to my liking, I realized I needed to give this line another look. Now, my Stretch Concealer ($18, glossier.com) is my go-to for everyday, minimalist looks, and I can't imagine my getting-ready routine without an array of shades of the Cloud Paints ($18 each, glossier.com) to choose from as blush.
While I must admit, a little goes a long way with their products, I'm still a fan of buying backups, which is why I'll definitely be taking advantage of some of their Black Friday savings. Are you ready for this? Sit down, because I'm here to tell you that shoppers on the Glossier website can score literally 20 PERCENT OFF EVERYTHING for both Black Friday and all the way through the weekend into Cyber Monday. Are you OK? I hope you're OK, because you have some shopping to do.
Catch my bathroom looking a whole lot like this after I stock up during the Glossier Black Friday sale:
Even better, this sale is happening both on the site — so you don't have to leave the comfort of your own home — and at each of Glossier's in-person locations in Los Angeles and in New York City. Speaking of New York City, Glossier recently opened up their new flagship locale in NYC at the corner of Canal and Lafayette St. If you haven't seen the new multi-story space, consider Black Friday your time to do so, because it's literally what heaven looks like.
All right, I hope your wallet and credit card are geared up and ready to go, because come Black Friday and Cyber Monday, you have some shopping to do. Might I recommend stocking up on all the shades of Glossier's Lidstar ($18, Glossier), their all-new Generation G Lipstick ($18, Glossier), the quick cult-favorite Lash Slick Mascara ($16, Glossier), the ever-so-popular Milky Jelly Cleanser ($18, Glossier), and the Balm Dot Com Trio ($30, Glossier) to soothe any chapped lips in the winter. Trust me, with these savings, all your purchases will be well worth it.