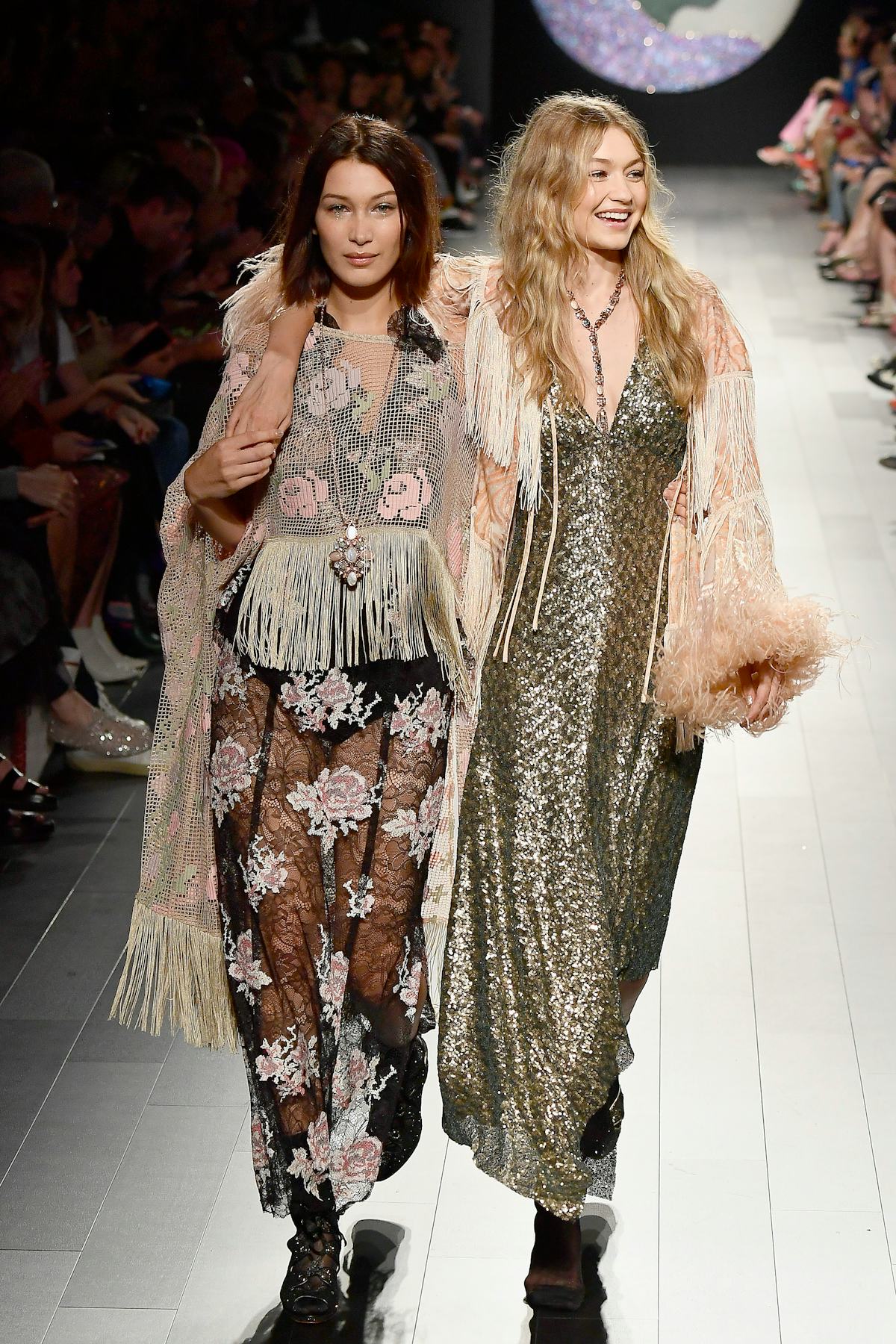 Gigi & Bella Hadid's New Reality TV Show Is 'America's Next Top Model' For The Insta-Set
Frazer Harrison/Getty Images Entertainment/Getty Images
Watch out Tyra Banks, there's a new supermodel scout in town. Three of them, actually. Gigi and Bella Hadid's Making A Model TV show just might blow America's Next Top Model out of the water, seeing as it's hosted by none other than the origin of the Hadid tribe herself: the sisters' mom, Yolanda. Needless to say, we are shook.
As explained in the video preview of the show, which is set to premier on Lifetime on Jan. 11th at 10 p.m. EST, Yolanda selected six teenagers from a pool of promising aspiring models to compete alongside one another for the ultimate prize of a coveted contract with IMG. In case you're not aware, IMG is one of the biggest modeling agencies in the world and represents beauties with the likes of Jasmine Tookes, Cara Delevigne, Hailey Baldwin, Chrissy Teigen, and, of course, Gigi and Bella Hadid. To sweeten the pot even further, the winner will also get to call Yolanda their manager. The reality star in her own rite allegedly grows organic carrots and lemon trees in her (stunning) backyard, and is the most supportive mom of all time on Instagram. Who wouldn't want some of that energy in their life?!
Each week, viewers will watch as the six teens are put through an "intensive training program focused on the physical, mental, and emotional strength needed to create a successful brand as a model," according to Entertainment Weekly. It looks to be a more well-rounded and realistic version of ANTM, though catwalk and photoshoot training will definitely play a role in the show. As will drama, fear not.
Knowing firsthand the stresses that come both with being a supermodel and mothering two of them, Yolanda has made sure that each contestant will have their mother by their side throughout the entirety of the show to help support and encourage them. As revealed by her stint on The Real Housewives of Beverly Hills, Yolanda played an integral role in helping Gigi break into the modeling world, and has continuously doled out valuable advice about navigating the industry to all three of her kids. (Along with Gigi and Bella, Yolanda's son, Anwar, is also making a name for himself as a model.)
Considering the insane amount of encouragement and guidance Yolanda gave Gigi and Bella in regard to shaping their careers, it's only right the daughter's return the favor. Both models will appear as mentors for the six contestants on the show, providing them with important industry intel. In one clip, Gigi can be seen giving one of the contestants posing tips on set, while Bella sits down with all of the girls to talk about making it as a model in another. As Yolanda says in the show's preview, "The modeling industry today has undergone a complete makeover. With enough social media followers, today's it-girl can become tomorrow's supermodel."
No one understands this better than Gigi and Bella themselves. Although both girls are drop dead gorgeous, their careers did largely take off because of their fascinating social media presences and passionate followers. Brands have realized that models will share the campaigns they appear in on social media, so hiring those with more followers will mean their products are reaching a larger group of people. This has me wondering if the sisters won't be helping the contestants build up their own social followings and giving them advice on devising posting strategies. (I'm not ashamed to admit that both Gigi and Bella's Instagram accounts FASCINATE me.)
I'll definitely be tuning in to watch Gigi, Bella, and Yolanda school the hopeful contestants in modeling 101.
As this preview demonstrates, the Hadid clan might not be the Kardashian/ Jenners, but they're fashion-slash-reality tv royalty just the same.