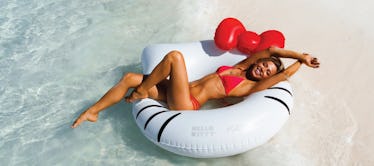 GetFloaty's Hello Kitty Collection Will Whisker You Away To Better Pool Days
Say "Hello" to the cutest inflatables you've ever seen. If you're looking for the purr-fect pool accessory for summer, you'll want to check out GetFloaty's Hello Kitty collection. Ranging from giant inflatables to drink holders, this collection has everything you need for a relaxing day by the pool. All you need to do is pick which inflatable truly floats your boat, and cruise into summer in style.
You know how important a proper inflatable is to hot backyard days. It's the difference between swimming around for a bit here and there versus living your best summer life and seas-ing the day. You want to get your hands on something that's not only relaxing AF, but fits your vibe and gets you excited to get into the pool. Having a float that's Instagram-worthy is a major plus. Luckily, this Hello Kitty collection checks off every box on your must-have list. It's cute, comfortable, and paws-itively picture-perfect.
All you need to do is browse these five Hello Kitty items in the collection, and select which ones you'd like to "add to cart." You might even want to get yourself a coordinating Hello Kitty swimsuit or wear a red bow in your hair for the ultimate #twinning look. Before you work on your tan while floating off to paradise, snap a cute selfie with your float. Caption your pics with a cat pun that's super sweet. Basically, you want to let your friends know you aren't kitten around, and plan to have a summer you'll want to remember furever.