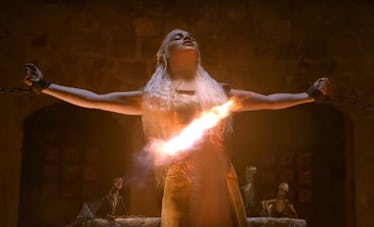 'Game Of Thrones' Just Revealed When Its Final Season Will Premiere In A New Teaser
HBO
The wait is finally almost over. Winter is nearly here. At long last, Game of Thrones has revealed when its eighth and final season will premiere, and we are only a few months away from the epic conclusion to HBO's high-fantasy saga. A brand new teaser trailer from HBO reveals that Game of Thrones Season 8 will premiere in April 2019, so we only have about five months to wait until we can jump back into Westeros and find out who is going to end up on the Iron Throne.
Unfortunately, we still do not have an exact premiere date for Game of Thrones Season 8 yet, but at least now we know which month it will premiere in. The big month reveal came at the end of a just released teaser trailer for the final season. Before you get too excited, the new teaser does not include any new footage from Season 8, but it is still a really cool look at all the major events that led each character to where they find themselves in the final season.
The video clip also launches the new hashtag campaign leading up to Game of Thrones' last season. Entitled #ForTheThrone, HBO's campaign will revisit some of the pivotal moments in the series' past that led each main character to the possibility of taking the Iron Throne in the final season. Check out the first teaser trailer below:
Although the teaser is filled with heart-pounding, beloved moments, the most exciting part is definitely the reveal that Game of Thrones Season 8 will kick off in April. Previously, all we had known about the premiere date was that it would be sometime in the first half of 2019.
Aside from its April premiere month, there is not too much else that we know about Game of Thrones' super-secret finale season yet. One of the important things we do know is that it will sadly be the show's shortest season ever, clocking in at only six episodes. But, there is hope that those six episodes will be extra-long, with talk that they will expand beyond the usual hour and run closer to an hour and a half.
And though Season 8 marks the end for the Game of Thrones main series, there is still more for fans of the franchise to look forward to. HBO has already greenlit a prequel series entitled The Long Night, which will dive deep into Westeros' past centuries before the Game of Thrones timeline to focus on the legendary Age of Heroes. And that may not be the only Game of Thrones spinoff coming to HBO after the main show wraps. The network actually commissioned five spinoff pilots last year, but has only picked up The Long Night so far. There is still a chance that another one, two, three, or even four Game of Thrones spinoff could get greenlit and expand Westeros even more.
For right now, though, we are still looking forward to the final six episodes of Game of Thrones, which will premiere on HBO sometime in April.