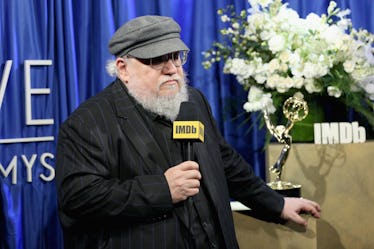 George R.R. Martin Just Revealed New Details About The 'Game Of Thrones' Prequel Series
Rich Polk/Getty Images Entertainment/Getty Images
Game of Thrones may be coming to an end, but HBO isn't about to let the biggest show on TV go quietly into that good night. The channel already commissioned one prequel series out of five commissioned scripts and is in the middle of casting the pilot. Set in the Age of Heroes, it's a show set 10,000 years in the past, back when the Starks and the Lannisters were only just establishing their holds on the Seven Kingdoms. But author George R.R. Martin's quotes on the Game Of Thrones prequel suggest there's more than one in the pipeline, and there are still more dragons to come.
This is the current big asterisk next to the current greenlit prequel. There were no dragons in 10000 AC in Westeros. There may not even have been dragons in Essos. The rise of Valyria didn't occur for another 2,000 years, circa 8000 AC. The Targaryens didn't travel to the island known as Dragonstone until 126 AC. This prequel may have a lot of things, like direwolves, giants, Children of the Forest, and the Old Gods. But it won't have Targaryens or Dragons.
This is why Martin's new quote is so exciting to fans. As he told The Guardian in a sprawling interview this weekend, there are more prequels still in the pipeline where the Targaryen story could continue.
In talking about his new book of Targaryen history in Westeros, Fire & Blood, which arrives in stores later this month, Martin said the following:
My model for this was the four-volume history of the Plantagenets that Thomas B Costain wrote in the 50s. It's old‑fashioned history: he's not interested in analysing socioeconomic trends or cultural shifts so much as the wars and the assignations and the murders and the plots and the betrayals, all the juicy stuff. Costain did a wonderful job on the Plantagenets so I tried to do that for the Targaryens.
And apparently, this history book has inspired not one, but two of the other prequels in development:
None of them are traditional spinoffs. You won't be seeing the further adventures of Arya, Sansa or Jon Snow, you'll be going back in time. The other four are all over the map and at least two of them are solidly based on material in Fire & Blood. Those haven't been greenlit yet.
As for The Winds of Winter, Martin admits it's a struggle to write, whereas Fire & Blood was not:
The Winds of Winter is not so much a novel as a dozen novels, each with a different protagonist, each having a different cast of supporting players and antagonists and allies and lovers around them, and all of these weaving together in an extremely complex fashion. So it's very, very challenging. Fire & Blood by contrast was very simple. Not that it's easy, it still took me years to put together, but it is easier.
Fire & Blood will arrive in stores on Nov. 20, 2018 in time for shoppers to buy this holiday season. Meanwhile, Game of Thrones' final season arrives in 2019 and the prequel is expected to follow in 2020.