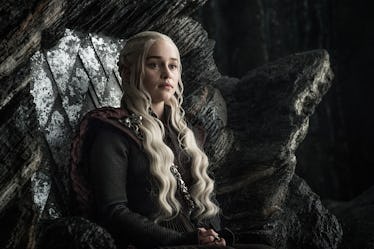 'Game of Thrones' Reveals Season 8 Episode Lengths, So Set Those DVR Extended Timers
HBO
The Television Critics Association press tour for the summer season began earlier this week, kicking off with HBO. The channel has many shows coming this fall it wanted to promote, as well as the current Sharp Objects limited series. But HBO programming chief Casey Bloys knows he can't go before the press without at least some tidbit of Game of Thrones news. He revealed a non-spoiler about next year: It will come in the first half of 2019. As a follow-up, Game of Thrones revealed the Season 8 episode lengths or at least a non-spoiler version of them.
At first glance, Bloys was giving news when he said Game of Thrones would air in the first half of 2019. But when HBO first announced it would come back in 2019, this is what everyone assumed anyway. To wait until the back half of the year would mean skipping another Emmys like it had to do in 2017. For a show on its final victory lap, such a delay would be untenable.
But when it comes to episode lengths, rumors have been rife about how long the season's installments would be, with some assuming every episode would be movie-length. According to Bloys, that's just not so.
In an interview with Entertainment Weekly, Bloys said the idea of the final six episodes running two hours or more was wrong.
...Two-hours? Yes, they are not going to be. Not that I've seen, anyway.
Entertainment Weekly suggests to Bloys the episodes will be more in line with the script page length rumors, running 50-90 minutes. Bloys does not confirm it, but he doesn't deny it either.
For those who don't keep themselves glued to Reddit, a poster claiming to know the script page lengths leaked them back around Christmastime. The shortest episode was supposedly the premiere, clock in at 61 pages, (which is ~61 minutes of runtime, or about a page a minute). The longest would be the finale, which supposedly was 84 pages long.
As for the first Season 8 trailer, Bloys swore he had no idea when one would come, or if there would be one at all this year.
Bloys also made sure to squash a lot of the prequel rumors floating about. The claim they would start filming the pilot in October is debunked. All the talk about a second Valyrian set prequel has been shelved.
Even though their new merger with AT&T has suggested HBO will have their budget upped going forward to make more original programming, it seems one Game of Thrones spin-off has been deemed enough for the time being. And until Season 8 is over, they are determined to keep the focus on it.
Bloys believes the wait will be worth it.
I think it's epic. I think fans are going to love it. I think it's a fitting way for one of the greatest shows in the history of television to go out and that people are going to be very happy. There's going to be a lot of conversation.
Game of Thrones Season 8 will turn up as expected in the first half of 2019.