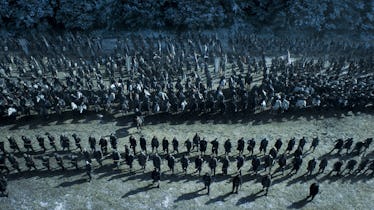 'Game Of Thrones' Just Finished Filming The Longest Battle In The Show's History
HBO
It is a generally accepted fact that Game of Thrones Season 8, the final season of the series, will bring about the denouement between the forces of relative good (humanity, the living, etc) and the pretty obviously evil (the Army of the Dead.) Like most fantasy stories of this type, that means a giant climactic battle. Over the last couple of months, we've seen the show working through filming that battle, much of which was filmed at night. Now filming has concluded, giving us some Game Of Thrones Season 8 spoilers on where this battle takes place.
How can we be sure they've finished? Because longtime assistant director Jonathan Quinlan allegedly posted this quote to his Instagram before setting his profile to private, thanking everyone for their long hard work and dedication.
The quote reportedly reads as follows:
This Is For The Night Dragons: For enduring 55 straight nights. For enduring the cold, the snow, the rain, the mud, the sheep sh*t of Toome, the winds of Magheramorne. When tens of millions of people around the world watch this episode a year from now, they won't know how hard you worked. They won't care how tired you were or how tough it was to do your job in sub-freezing temperatures. They'll just understand they're watching something that's never been done before. And that's because of you. Thank you. - The Producer Types, Season VIII, Game of Thrones.
The caption to the photo allegedly read as follows:
55 consecutive nights. 11 weeks. 3 locations. You'll never again see anything like it.
Please Be Advised: Spoilers and Speculation for Game of Thrones Season 8 follow.
Here's How This Battle Lines Up With Previous Big Battles:
Game of Thrones, as I like to say, comes from the "Wham-Bam-Thank-You-Ma'am" school of filming. They make every dollar count. That means that filming — especially on-site location filming, which incurs a far higher price tag that in-studio filming does — is done in a brutally efficient manner. As Thrones watchers in Ireland can tell you, those pink signs warning of nearby filming go up, and then straightaway, they come back down again before you can even blink.
The only exceptions to this rule have been battles:
Season 2's "Blackwater," and Season 4's "The Watchers on the Wall," which took three weeks to shoot a piece.
Season 5's "Hardhome," which took close to a month to shoot.
Season 6's "Battle of the Bastards," which was a 25-day shoot.
Nothing has taken anywhere near 55 days before. Not even close.
Here's What We Know:
The three locations where the filming took place were Moneyglass, where the Winterfell set is located; Saintfield, which is where the Battle of the Bastards fight outside of Winterfell was filmed; and Magheramorne Quarry, which is where the show sets up giant greenscreen work, (as well as the Castle Black set).
Miguel Sapochnik was hired to film two episodes, and as the show's go-to director for major battle set pieces, we can bet this massive battle is his baby. He was hired to film Episodes 3 and 5.
Here's What We Speculate:
There are only six episodes. If Game of Thrones continues their tradition of "The Big Battle Is The Penultimate Episode," this Battle for Humanity, which takes place at and around Winterfell, is Episode 5. It is currently rumored to be in the 75-minute range. This also lines up with previous rumors and spoilers from leaked set pages that other Sapochnik episode, Episode 3, is the Battle of King's Landing.
Did We Just Learn Season 8's Premiere Window?
The message that was allegedly posted contains a line that caught my attention (bolded to catch yours.):
When tens of millions of people around the world watch this episode a year from now, they won't know how hard you worked.
A year from now would be April of 2019, the traditional premiere spot of Game of Thrones for the first six seasons.
Now, chances are the wording was just not specific, and "a year from now" just means a generalized "2019." But the coincidence is just a little too on the nose to be ignored.
Game of Thrones returns to HBO for its final season in 2019, whenever it darn well decides it will. Maybe even in April.