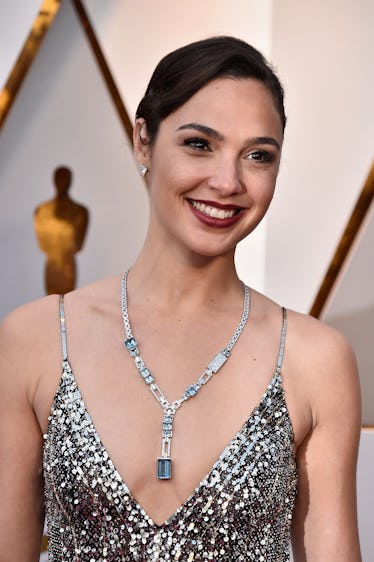 Gal Gadot Is A Sparkling Wonder (Woman) At The Oscars & I Can't Look Away
Frazer Harrison/Getty Images Entertainment/Getty Images
If there's one movie that was majorly snubbed by the Academy by not receiving any nominations this year, it's Wonder Woman. That film is objectively incredible. But its lack of recognition at the behemoth of award ceremonies didn't stop its star from showing up. Gal Gadot's 2018 Oscars look is fit for a patriarchy-crushing superhero, so yes, it's apt.
Directed by Patty Jenkins (who should have definitely received a nomination for Best Director), Wonder Woman proves that female-fronted superhero movies can absolutely compete with similar films starring men. It grossed over $103 million in box office sales during its opening weekend alone, setting a new record for a movie directed by a woman. What's more, the movie helped convey to young girls that they can do whatever they want and be whomever they want — that women are powerful and able and forces to be reckoned with. It's a movie that was sorely needed in light of America's current political and social climate, and one that will continue to inspire for years to come.
And Gadot, its fierce star, had a huge hand in making it so impactful. Born in Israel, she served as a combat instructor in the Israel Defense Forces for two years before deciding to pursue modeling. She's smart, charismatic, beautiful, and strong, and if you saw her performance on Saturday Night Live then you also know about her great sense of humor and ability to captivate. In short, she embodies what it means to be a powerful woman, both on-screen and off. Can you tell I have a major crush on the woman?
Needless to say, her attendance at the Oscars makes the awards show that much more exciting, partly due to the fact that whenever she hits a red carpet, she absolutely slays. At the Golden Globes this year she wore a simple black dress with a knee-high slit, but paired it with a cropped, tuxedo-style blazer and dazzling diamond-encrusted earrings. Anytime an actress challenges red carpet norms, I am all about it!
And on Sunday, March 4, at the 2018 Oscars, Gadot stunned once again:
The Wonder Woman star was styled by Elizabeth Stewart for the big night, and the look certainly did not disappoint. Stunning everyone with a silver-sequin Givenchy gown, Gadot played up the glam even more with a drool-worthy Tiffany drop diamond necklace featuring subtle blue gems. Her beauty look featured classic bronze, shimmering tones on her eyes, with a deep red lip color. If you want to recreate the look, you won't need to travel any further than your nearest drugstore. Makeup artist Sabrina Bedrani used all Revlon products to create the look. Bedrani used Revlon Colorstay Creme Eye Shadows in Creme Brulee and Carmel ($9; ulta.com) to enhance the shape of the eye. To add definition, she lined Godot's lashline with the Revlon Colorstay Liner in Onyx ($9; ulta.com) before applying two coats of Revlon Mega Multiplier Mascara ($9; ulta.com). For the lip, Bedrani applied the Revlon Colorstay Lipliner in Wine ($9; ulta.com) all over Gadot's pout before finishing off with a layer of Revlon Super Lustrous Lipstick in Bombshell Red ($5; target.com). A wonder, indeed.
Her hair, styled by Dove Celebrity Stylist, Mark Townsend, was done in a sophisticated French twist. Describing the inspo behind Gadot's whole look, Townsend revealed,
Gal's look tonight is inspired by her Givenchy silver gown and Tiffany diamond and aquamarine necklace. We decided to put the hair up so that we could really highlight the jewel! The final look has an Art Deco feel — just a hint of 1920s, without being costume-y
To do Gadot's sleek updo, Townsend started with ORIBE Maximista Thickening Spray ($38) on Gadot, spritzing it into her damp hair, and then drying her hair with a Dyson Supersonic hair dryer ($399.99). He then used Dove Smooth & Shine Heat Protection Spray ($4.99) as he curled her hair. After securing most of her hair in a French twist (obviously with a ton of bobby pins), Townsend focused on the top of her hair, creating subtle waves with the Dove Compressed Micro Mist Extra Hold Hairspray ($4.99). He used the same hairspray, which holds the hair firm while still allowing it to be brushed out flake-free later on, to set Gadot's final 'do,
If anyone were to perfectly embody Wonder Woman in the film, at the 2018 Oscars, or at any point in time, the winner by a mile would be Gal Gadot.