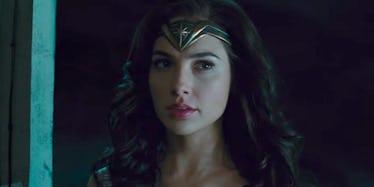 10 Things You Didn't Know About Gal Gadot That Prove She Really Is Wonder Woman
DC
The reviews are in for Wonder Woman, and just about the whole world seems to agree this is the first hit superhero movie from the DC universe.
I saw it last night and literally sobbed through just about the entire thing, so yeah, it's amazing.
Gal Gadot is a full-fledged superstar. Her portrayal of Diana, the Amazonian princess, will surely go down as one of the best superhero performances ever.
Critics are already saying she's filled the shoes that Henry Cavill's Superman was unable to as the true north of the DC superhero universe, so hopefully the perfection that is her performance and this movie will translate into the upcoming two-part Justice League films.
The film has also made history as the first superhero blockbuster to be directed by a woman. And with its 93 percent rating on Rotten Tomatoes, it now ranks above all of the DC and Marvel universe movies, with the exception of the first Iron Man (94 percent) and The Dark Knight — the last Warner Bros. film to be so positively reviewed with a 94 percent rating.
Yeah! Women!
Director Patty Jenkins served us a perfect hero on a bulletproof shield, and I plan on throwing all of my money at the movie by seeing it in theatres again and again and again.
But what do we know about the film's star Gal Gadot? Let's take some time to get to know Hollywood's newest movie star.
1. She was Miss Israel 2004.
Yup, before she was an actress, Gadot competed in pageants in Israel and worked as a model, and a very successful one, at that.
She was crowned Miss Israel in 2004 when she was 18 years old.
2. She had her second daughter after Wonder Woman finished filming.
Gadot has been married to real estate developer Yaron Varsano for about a decade, and they have two daughters together: Alma, who was born in 2011, and Maya, who was born in March 2017.
She was about five months pregnant at the 2017 Golden Globes, where she appeared as a presenter.
3. She studied law and international relations in college and never wanted to be an actress.
Following her Miss Israel win in 2004, Gadot went to university where she studied law and international relations.
In an interview with W Magazine, she said she thought being an actress wasn't a serious enough career for her after she was asked to audition to be a Bond girl in Quantum of Solace. She shared,
I said, 'No way.' I said, 'I'm studying law and international relations. I'm way too serious and smart to be an actress, and besides, the script is all in English.' I spoke English, but I wasn't comfortable with it.
I guess she takes acting seriously now!
4. She served in the Israeli Defense Forces.
When you're a citizen of Israel, like Gadot is, you're required to serve some time in their military. She spent two years serving in the Israeli Defense Forces.
While promoting Batman v Superman, she told interviewers this wasn't that big of a thing, seeing as everyone is required to do it. She told People, "Part of being Israeli is to go to the army. All my friends went, my parents went, and my grandparents went."
5. She does her own stunts.
Her first mainstream role was Gisele in Fast & Furious. In an interview with Real Style Network, she said, "All of the stunts on Fast 5 and 6, I have done myself and on Fast 6 we went crazy with the action moves."
She continued, "The adrenaline was just incredible and I enjoyed being able to do the stuff that in real life you can't."
Gadot apparently owns a black 2006 Ducati Monster S2R, according to IMDB, which probably came in handy when she was cast in the franchise.
6. She was almost in Man of Steel, but not as Wonder Woman.
Gadot was apparently one of the contenders for Faora-Ul, one of the villains in Man of Steel, but she had to turn down the role because she was pregnant with her first daughter, Alma, IMDB reports.
Obviously, she later co-starred in Batman v Superman alongside the Man of Steel himself, Henry Cavill. This time, she was on the side of the good guys.
7. She was on the short list of women being considered to play Gamora in Guardians of the Galaxy.
According to IMDB, Gadot was one of the top contenders to play the green-skinned Gamora in the beloved Guardians of the Galaxy franchise.
She obviously lost the part to Zoe Saldana, but that's OK, because now she's the star of her own superhero movie and will most likely be the best part of the upcoming Justice League.
Gadot also had some tough competition for Wonder Woman. Elodie Yung and Jaimie Alexander were also considered for the part.
8. Beyoncé helped Gadot nail her audition for Wonder Woman, who had no idea what she was actually auditioning for.
In her interview with W Magazine, Gadot said when she auditioned for her role in Batman v Superman, she had no idea what she was auditioning for. All she knew was it was an audition for a project with filmmaker Zack Snydee.
And apparently, Queen Bey herself — more specifically, the song "Who Run The World? Girls" — helped pump Gadot up before she went in. She said,
The director, Zack Snyder, asked me to do a camera test. That was torture. They were looking at six or seven girls, and we were all in separate trailers and were told to stay inside until they called us. Waiting is my enemy Number One, and I was losing my mind. So, I decided to put on Beyoncé… 'Who runs the world? Girls!' I just started to dance, and I let my anxiety go. Thank you, Beyoncé!
Thank you, Beyoncé.
9. She is one of three women to ever play Wonder Woman on-screen.
Before Gadot, only two women played Wonder Woman on-screen: Cathy Lee Crosby in a TV movie in 1974, and the more well-known Lynda Carter, who played Diana on the Wonder Woman TV show back in the '70s, according to Entertainment Weekly.
Carter reportedly gave director Patty Jenkins her blessing when she first signed onto the film, and the two, along with Gadot, built a strong relationship from there out of mutual love for the character.
Gal Gadot is the first and only woman to star as Diana in a full-length Wonder Woman film, which is the only female-led superhero movie in both the DC and Marvel universes since 2005.
But judging by the film's early success, it won't be the last.
10. She has a strong connection with director Patty Jenkins.
In a 2016 interview with Entertainment Weekly, Gadot detailed how much she loves Diana and how much working with a female director influenced the character, the film, and her as a person.
She said,
All my life I've been working with male directors which I've really enjoyed. And I'm lucky in that I've worked with men who have a lot of respect for women. But working with a woman is a different experience. It feels like the communication is different. We talk about emotions. With Patty, it's a thing now, we communicate with our eyes. She doesn't need to say a thing. If I'm hurt, she feels the pain. It's a whole different connection that I have with her. She's also brilliant, she's bright, she's fierce, she's sharp. She knows exactly what she wants Wonder Woman to be.
She continued,
For a long time, people didn't know how to approach the story. When Patty and I had our creative conversations about the character, we realized that Diana can still be a normal woman, one with very high values, but still a woman. She can be sensitive. She is smart and independent and emotional. She can be confused. She can lose her confidence. She can have confidence. She is everything. She has a human heart.
Wonder Woman has now made over $100 million in the box office, the biggest debut for a female director in history.
Citations: 9 Things to Know About Wonder Woman's Gal Gadot (Cosmo), Gal Gadot Listened to Beyoncé to Prepare for Her Wonder Woman Audition (W Magazine), 7 Things to Know About Gal Gadot (IMDB)