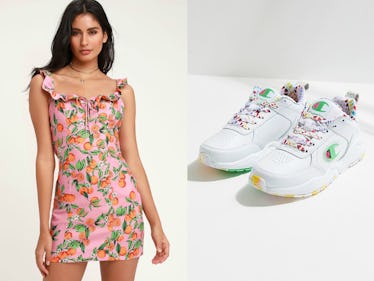 20 Delicious Fruit Print Fashion Pieces That Will Make You Look & Feel Like A Total Snack
Lulu's // Urban Outfitters
There's an extra juicy way to infuse your daily style with fresh pops of color and I guarantee it's one you're going to want to take a bite out of. Fruit print dresses, tops, bottoms, accessories (so basically fruit print everything) are trending, proving that kitschy-cool style will never die. And why would you want it to? Playful prints are what happy outfits are made of, so take a walk on the wild side and try some out for yourself.
Earlier this week, accessories designer Susan Alexandra dropped a collection at Urban Outfitters in collaboration with Champion that was basically a wearable fruit salad. From a crop top and biker shorts to tees and some seriously rad sneakers, an array of products were covered in strawberries, grapes, watermelon and the like in what might be the cutest sporty collection ever. It proves that fruit has gone mainstream and appeals to a wide sartorial palette, so pic your favorite citrus or berry and rep it hard.
Below, I rounded up 20 of the best fruity pieces on the market, from jewelry to dresses to tops and everything between. Pick your favorite and get ready to feel and look like a literal snack.