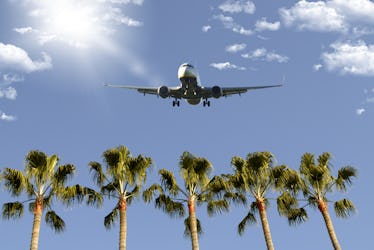 You Can Fly To Orlando For $45 Round-Trip With Frontier's Fall Flight Sale
Summer is almost (officially) over, and I'm more than ready to embrace all things autumnal, including cozy sweaters, football season, and, most importantly, travel steals. In my opinion, fall is one of the best times to plan that dream getaway because you're not navigating around long lines and crowds of tourists, you don't have to try to explore a city in summer temperatures, and you can usually score some pretty sweet steals on airfare and hotels. Case in point: Frontier Airlines' flight sale offers 90 percent off fares, so I'd get to booking that fall vacation ASAP.
If you haven't flown with Frontier before, it's the budget airline that's gifted money-savvy travelers rock bottom fares for as low as $15. Yes, it's real, and yes, I'm still pinching myself over the incredible savings I've scored from this airline in the past. Well, if you missed out on their Labor Day flight sale, Frontier is giving you a second change with a flash flight sale that's only here through the end of the weekend. You have until 11:59 p.m. ET on Sept. 17 to make moves on your booking, and not sleeping on this sale might score you the flight deal of the summer, aka 90 percent off your travels, per AirfareWatchdog.
Here's how it works. When you head to FlyFrontier.com and choose your destination, you can enter the promo code "SAVE90" at checkout, and voila, the airlines will take 90 percent off your base cost. That means that you're only paying 10 percent of the cost of your ticket. You can apply the promo to both round-trip tickets and one-way trips, which means that it's totally possible to pay just $45 for a getaway. Thinking about that amount in terms of your weekly spending, that's less than nine Grande Pumpkin Spice Lattes or just two nice dinners with cocktails, so there's no excuse not to get to booking a trip now.
A few notable fares that stood out to me include a $69 round-trip fare from Long Island-Islip to Orlando, which is just $70 if you start out from New York LaGuardia. You can also skip over to Disney in in Florida from Greenville, South Carolina for only $45 round-trip. With all the Halloween festivities that'll be going on at The Wizarding World of Harry Potter, Walt Disney World, and Universal Studios, there's never been a better time to channel your inner child at a theme park and take advantage of the pleasantly warm weather.
Meanwhile, flights to neighboring Miami from New York or Philadelphia will only set you back $70, which means that you can spend your savings on shopping, dining, and partying on the beach. Looking for some stunning fall foliage on the East Coast? I'd recommend heading to Harrisburg, Pennsylvania; Providence, Rhode Island; Portland, Maine; or Philadelphia. Flights to these quintessential autumn locations from Florida range from $57 to $75 round-trip.
If this all sounds a little too good to be true, there are a few things to keep in mind before you get to booking. The discount is only applicable for nonstop flights, which means that you'll have to pick and choose through dates to find one that works. In addition, you must purchase your flight at least seven days in advance, and you can only fly out on Tuesdays, Wednesdays, and Saturdays, through Dec. 18. Certain dates are blacked out (Oct. 6, 13, and 20, as well as Nov. 17-27 aren't part of the promo) and taxes and Frontier's online booking fee aren't included in the discounted price. Also, as Frontier is a budget airline, keep in mind that they will be charging extra for add-ons and baggage.
That being said, you'll still be scoring major savings on your round-trip ticket and avoiding travel FOMO once the seasons turn, so I'd recommend pushing those brunch plans back and spending an afternoon cementing those fall travel plans. Your wallet will thank you.