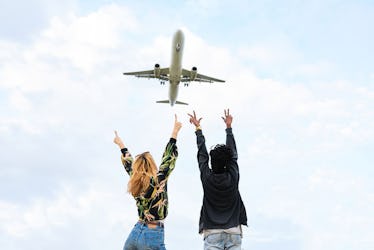 Score 90 Percent Off Your Next Flight During The Frontier Airlines Labor Day Sale
Flight sales come and go, but there's no time like the present to take advantage of this incredibly great deal from a well-known budget carrier. Frontier Airlines' Labor Day sale offers 90 percent off fares for a fall adventure, but you need to book your flights ASAP. It's not often that any airline offers such a deep discount on fares. If you've been dreaming of a fall getaway that won't break the bank, this is your chance to take a sweet autumn vacay on the cheap.
Labor Day weekend is known for its plethora of discounts, but this Frontier Airlines sale may take the cake for best sale ever. In order to get 90 percent off of your airfare travel, you must book your travel by 11:59 p.m. ET on Monday, Sept. 3, according to Frontier Airlines. There's a catch, though. If you've gotten to the end of the checkout process and don't see the discount, make sure you remember to apply the promo code "NOW90" to get a deal.
Like many other good deals that have come before this one, there are a few stipulations you should know about. First, you'll need to be flexible with your travel dates, meaning you can't just book whatever days you want. To score 90 percent off, you need to fly by Thursday, Oct. 4, according to Frontier Airlines. The promotion is valid on nonstop flights departing Mondays through Thursdays, as well as on Saturdays. Frontier Airlines requires that you book your trip three days prior to travel, but that should be no problem given that it's the final day of Labor Day weekend.
There's one more thing to know: Where you are flying to and from will impact your ability to claim this deal. Frontier Airlines excludes certain markets from the promotion. For example, flights from Atlanta to Los Angeles, Cincinnati, Ohio, and New York City are not eligible for the 90 percent discount, according to the airline. Other markets are also exempt, so make sure to check with Frontier Airlines before trying to book your super affordable fall getaway.
Just to see how sweet this deal really was, I found a flight from Atlanta to Las Vegas that would normally be $182.40 roundtrip. After applying the "NOW90" code, the flight was reduced to $78 roundtrip. That's a total savings of $104.40 — more than the cost of the airfare itself. Pretty legit. There are all sorts of deals like this available for purchase on the Frontier Airlines website. You'll just need to play around with your departing city to find the deal that best suits your travel desires. Just remember, you need to book them soon. The 90 percent off promotion expires right before midnight on Monday, Sept. 3.
If you miss out on the Frontier Airlines 90 percent off Labor Day sale, don't worry. There's still a deal to be had. The low-cost carrier is offering $20 flights to awesome destinations all across the country. From Orlando, Florida, you can fly to Greenville, South Carolina, or Atlanta, Georgia, for just $20 one way. This is perfect for anyone hoping to drive through the mountains and catch a glimpse of the changing fall leaves.
If you've always wanted to check out the Albuquerque International Balloon Fiesta, now may be the time to do it. You can fly from San Antonio, Texas, to Albuquerque, New Mexico, for the very affordable price of $20. Frontier Airlines' $20 fares include lots of great cities, but you need to book your one-way ticket by Tuesday, Sept. 4. This deal is not valid with the 90 percent off promotion but is still an incredible promotion that you can take advantage of during the final hours of Labor Day weekend.