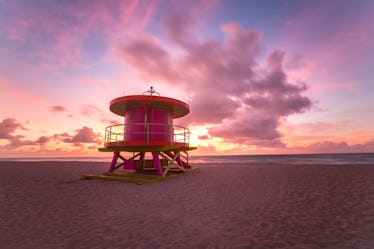 You Can Fly To Florida For $15 With Frontier's Flash Sale, So Summer Isn't Over
If I told you that it's possible to fly to your favorite city for $15, would you believe me? Well, you should, because Frontier Airlines is making it happen. The company is back at it with cheap plane tickets, and now's your chance to book an end-of-summer vacation without breaking the bank. I'm serious: Frontier Airlines' Flash Sale has $15 flights around the country, so plan your trip and start packing. The sale is perfect for anyone hoping to make a quick getaway before the autumn months come rolling in.
Before I tell you a little bit more about Frontier's latest deal, go ahead and bookmark the company's flash sale page. By checking it frequently, you're sure to come across some irresistible deals that'll bring your wanderlust to the next level. If you already scan the page regularly, you might've come across the company's latest sale, which advertises cheap tickets for travel between Aug. 21, 2018, and Oct. 3, 2018. After browsing some locations and dates, you'll discover that some one-way flights are as cheap as $15.
In other words, you can fly to a different state for less money than it takes to fill up your gas tank (or go out to brunch). So, what the heck are you waiting for? It's time for a vacation.
As I previously mentioned, Frontier's $15 one-way flights are totally dependent on which dates you plan on traveling. Before you plan your trip, make sure the cheap tickets are available on the days hope to fly to (or from) your location. Also, keep in mind that you'll have to purchase your cheap ticket at least seven days before you travel, according to Frontier. The discounted fares are good for nonstop domestic flights, so keep that in mind before you even think about seeing a different country on the cheap. You should also know that blackout dates, which are Aug. 31 through Sept. 3, do apply to the flash sale.
Oh... there's one more thing you should know. You only have until Aug. 15 to book a $15 flight, which means you need to make a quick decision. If you ask me, flights this cheap are totally worth spur-of-the-moment purchases, so check your calendar and request a few days off of work.
You deserve a cheap getaway (and I'm sure your wallet does, too).
Now, you're probably wondering where you can go with a $15 plane ticket. Believe it or not, Frontier's website offers more than 30 deals with destinations throughout the country. For instance, you can fly from Buffalo, New York, to Jacksonville, Florida, for $15 in September. If you'd rather be in a city than on the beach, you can find $15 flights from Indianapolis, Indiana to Philadelphia, Pennsylvania, according to the company's flash sale page. Whether you're trying to vacation at the beach or in a city, Frontier has options.
Again, it's hard to pass up a $15 flight, so call your friends and see who's down for an end-of-summer getaway. Oh, and don't forget to keep an eye on Frontier's flash sales.