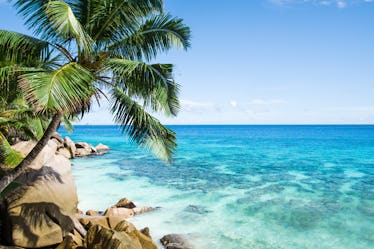 You Can Fly To Florida For $40 With Frontier, So Book Your Beach Trip ASAP
It is time to dust off the suitcase and pack your bags, because a relaxing tropical oasis is just a flight away — and it won't cost you must to get there. Right now, the Frontier Airlines sale has $39 flights to Florida, so if you have been dreaming about dipping your toes in warm blue water and taking a stroll on white sandy beaches, now is your chance to get out of town for next to nothing. You better be ready for take off soon, as these travel deals to the Sunshine State are only good for a limited time.
Frontier Airlines is committed to "Low Fares Done Right," according to its website, and it has certainly outdone itself with these jet-setting sales. The budget airline is offering several one-way flights to Florida for either $34 or $39. Basically, you are looking at a roundtrip flight for under $100. Deals this good don't hang around for long, though. In order to secure these prices, you must book your flight by Wednesday, May 9, and travel between Friday, May 11, and Wednesday, June 6.
For example, you can fly from the Long Island/Islip airport directly into West Palm Beach all for just $34 each way. Think about all of the snorkeling, parasailing, and more importantly, beachside relaxation that awaits you. Tempting, right? There are also several one-way flights from various destinations around the country that go into Orlando for under $40, too. The closest beach is only a 45-minute drive from the Orlando airport, so you might as well wear your bathing suit on the plane and lather up with sunscreen before the wheels hit the runway. For a little extra, you can fly into Tampa or Jacksonville for $44 each way. The Sunshine State is home to 825 miles of coastline for you to enjoy, so there's no need to be choosey when deciding on your oceanside paradise.
The beach getaway isn't the only sweet deal you can take advantage of during the Frontier Airlines super cheap flight sale. There are many flights available to destinations such as Charleston, Atlanta, Savannah, Austin, Chicago, and more for as low as $20 each way.
Since the flights are so inexpensive, there are a few stipulations to know before you book one of these deals:
You must book your flights at least three days out from your planned travel date.
Seating options are limited.
Fares may be unavailable on certain flights and/or days of travel.
Since Frontier is a low-cost airline carrier, there are costs associated with picking your seat, as well as baggage fees including a $30 or $35 charge for your carry-on (depending on when you travel). Do yourself a favor and price out the total trip cost before you book so you don't run into any financial surprises later on. To keep it all in perspective for you, remember that you are booking a pretty darn cheap airfare ticket — so it should even out when all is said and done.
Regardless, this Frontier Airlines sale is what travel dreams are made. TBH, your wallet might be a wee bit sad if you don't take advantage of these warm weather flight sales, especially if you are just going to book a similar deal later this summer. What are you waiting for? Send your boss an email to see if you can finagle a little time away from the office — and if not, there are a handful of open weekends you can sneak away, too. Maybe you can even convince your friends to book one of these Frontier Airlines flights on the fly for a quick weekend getaway. After such a long and snowy winter, you deserve a little vitamin D.