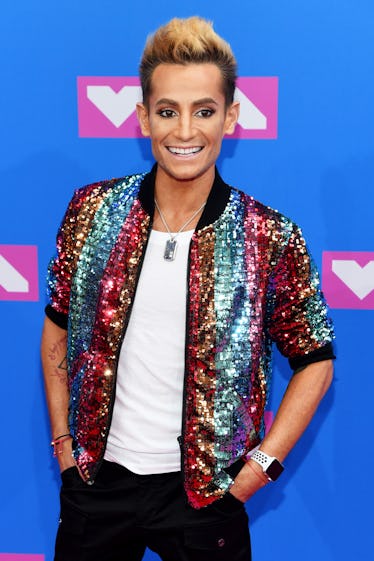 Frankie Grande Gave A Shoutout To Ariana Grande After Her Reported Breakup From Pete Davidson
Nicholas Hunt/Getty Images Entertainment/Getty Images
In the wake of Ariana Grande's reported breakup with Pete Davidson, Grande's brother Frankie has some sweet words to share with his little sister. Frankie Grande's message to Ariana Grande after her breakup will definitely move you.
On Monday, Oct. 15, Grande took to his Instagram account to show his support for his sister as she grapples with her reported split with her fiancé. Elite Daily reached out to Grande and Davidson's teams for confirmation of their breakup, but did not hear back by the time of publication.
In any case, here's what Grande's brother had to say in a video posted to his Instagram Story: "Good morning to my beautiful, beautiful sister. I love you so much and you're with me right now in Iceland. Listen!" he said before singing the chorus to his sister's song "Breathin'".
It appears the song was playing on the radio in Iceland where Grande's brother is currently vacationing. So, while his sister may not be with him in person, she's definitely there with him in spirit. And he's with her, too.
"You know, you gotta keep on breathin' — that's true," added the 35-year-old TV personality.
Check out his Instagram Story down below:
The sweet brotherly message comes just after news broke that 25-year-old Grande and 24-year-old Davidson reportedly split. According to an Oct. 14 report from TMZ, Grande and Davidson reportedly decided to end their engagement over the weekend. Sources close to the situation revealed to TMZ that both Grande and Davidson reportedly agreed "that it simply was not the right time for their relationship to take off" and that they reportedly "still have love for each other, but things are over romantically."
Additionally, a source close to Grande and Davidson revealed to People that the reported breakup wasn't a surprise to anyone in their inner circle.
"It was way too much too soon," the source told People in an Oct. 14 report. "It's not shocking to anyone."
Grande and Davidson began dating casually in mid-May and announced their engagement in early June. So, things did move pretty fast between the pair. While Grande and Davidson seemed totally committed to each other, it seems that a breakup may have been in the cards for a while.
Just last week, on Oct. 9, fans noticed that Davidson seemed to have covered up one of his Grande-related tattoos. Back in June, Davidson had Grande's Dangerous Woman black bunny mask tattooed behind his ear. But a recent appearance on Saturday Night Live seemingly revealed that he'd covered it up with a black heart instead.
Here's a look at the tattoo in both its original and apparently modified forms:
So, it's possible that there was trouble in paradise even before the reports of a breakup started surfacing on Oct. 14 (despite the couple seemingly being on good terms as recently as Oct. 13 when Grande was reportedly seen supporting Davidson at an SNL taping).
Whatever the case is, it's a sad situation all around. While nothing has been officially confirmed by Grande or Davidson just yet, it does seem as though the relationship has taken a turn of some kind. If the break up is the real deal, hopefully the reports that Grande and Davidson ended their relationship in a friendly manner are true.