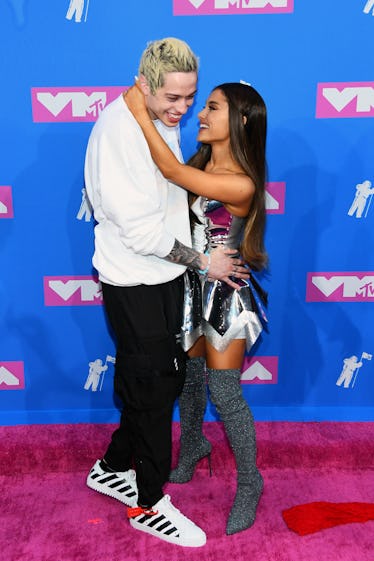 Pete Davidson's Reported Reaction To His Split With Ariana Grande Will Break Your Heart
Nicholas Hunt/Getty Images Entertainment/Getty Images
Ever since my Sunday night was ruined by the news that Ariana Grande and Pete Davidson had reportedly called it quits, I've been pouring over the details of their relationship in my mind, trying to figure out what went wrong and whose idea this breakup was. Elite Daily reached out to Grande and Davidson's teams previously for confirmation on the split, but did not hear back by the time of publication. Now comes the news that the "God Is A Woman" singer was reportedly the one to end things, and while I am not totally shocked by this development, I am kinda surprised that Pete Davidson's reaction to his breakup with Ariana Grande was actually pretty mature.
"Ariana made the final decision," a source told Entertainment Tonight. "Pete is incredibly heartbroken. Pete is still is so in love with her. He wanted his whole world to revolve around her but she was emotionally unavailable. He realizes she was at her limit with pressure from everyone and everything around her. There were days she just wanted to run away from the world just to get some peace and quiet and piece [sic] of mind. Pete had to give her that space out of love."
Elite Daily reached out to Pete's team for confirmation of this report, but did not hear back in time for publication.
Meanwhile, according to the same source, while the couple didn't plan to split so suddenly, they both felt the breakup was needed.
"They got engaged because they felt this instant connection and even now after their split they are still deeply in love," the insider reportedly told ET. "But their timing has truly affected their plans and made it impossible for them to make it work at the moment. They have a very special connection, partly because Pete has been there for Ariana during a painful time in her life. She will forever and always be grateful to Pete."
Ugh. It's all so sad and bittersweet! The good news, though, is that Grande and Davidson have not ruled out the possibility of pulling a Miley and Liam and eventually getting back together.
"They have not stopped talking since they made the decision to split and in fact they plan on trying to stay close friends or maybe one day even more than that," the source said. "They are remaining positive and looking forward to a future together. They just know that they cannot be engaged right now or be in a serious relationship because of the stress Ariana has had to face recently and the stress of their careers. They want to make sure if they ever do decide one day to make it work that they make their relationship a priority. They both want a family one day and realize they will have to step back a bit from their careers to do that. They love and trust each other so much and want to keep the option open for a future together."
I may be in the minority, but I really feel like these two had something special, so I have faith. Best of luck, Grandavidson! I'm rooting for you!