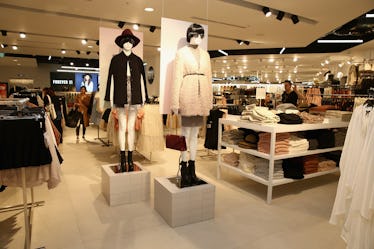 Forever 21 Is Having a Pre-Black Friday Sale, But Hurry Because It Ends Tomorrow!
Cameron Spencer/Getty Images Entertainment/Getty Images
'Tis the season to score a slew of savings that are so generous the Grinch (pre-heart growing) would shrivel in disapproval. Prices are being slashed left and right in anticipation of the biggest shopping event of the year and Forever 21's Pre-Black Friday 2018 sale, which is going on now, is kicking things off a whole three days early. Pre-Black Friday sale? What is this ridiculousness?! While the purpose of preceding one huge sale with another is lost on me, I am most certainly not mad at it. I've never met a discount I didn't like.
From now until tomorrow, November 21 at 11:59 p.m. PST, you'll be able to shop two of Forever 21's coziest product categories at seriously low prices both in select stores and online. First up? Sweaters, which you can cop at 30 percent off. From ribbed crop tops and printed cardigans to turtleneck sweater dresses and soft oversized styles, there will be a style that you won't want to pass up on this season.
The next deal applies to the most important winter wardrobe staple, at least as far as living that hygge life is concerned. Outerwear is on sale for a whopping 50 percent off, so if you've been looking for a new coat of any kind now is the time to get it!
To convince you this is a sale you definitely don't want to miss out on, eight of the coolest picks are below. Hop on your favorite before it's too late!
Wild Thing
The coziest way to rock winter's animal print trend is with this oversized tiger print cardigan. Throw it on over jeans like above for a super easy and quick look or pair it with a black LBD and chunky black boots for a night out.
Pattern Play
The print, the slightly cropped silhouette, the cool puffed sleeve design—everything about this sweater is so, so good!
Wrap Star
Puffer coats are legitimately cool these days thanks to bright color palettes and an array of silhouettes. This bubblegum pink option sets the bar high with its funnel neckline and cheery hue.
Lazy Sunday
This sweater is all I want to wear on every Sunday from now until the end of time. It's got a hood for extra coziness but retains a stylized aesthetic thanks to its ribbed design.
The Fuzz
Because everyone needs that one coat that feels like their childhood teddy bear. Talk about a creature of comfort!
Now You See Me, Now You Don't
Fleece is in and thanks to its fuzziness it's a trend you don't want to ignore.
Full Spectrum
You can make even the grayest of winter days a whole lot brighter with this comfy rainbow sweater.
It's Casual
This is the perfect jacket to have on hand thanks to its ability to be dressed up and down seamlessly. Plus, it looks comfy AF and has a hood, meaning a surprise flurry of snow won't necessarily be an unwelcome occurrence.