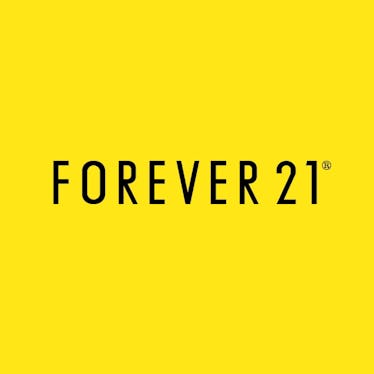 Forever 21 Black Friday 2017 Sales Are Already Happening, So All Bets Are Now Off
Thanksgiving hasn't even started yet, but the folks over at Forever 21 know that my shopping habit waits for no one. Spoiler alert: The Forever 21 2017 Black Friday sales have already started. But don't panic, I'm here to break down this beautiful cornucopia of deals so you can continue your hometown pilgrimage.
Real talk, my friends and I used to go to Forever 21 when we wanted some uncharacteristically sexy going-out clothes, like a sequined minidress for New Year's Eve. We used to joke that Forever 21 clothes were disposable, mainly because we could score a brand new outfit for under $50, but also because we only wore sequined mini dresses once a year. This was a certain number of years ago, though, and my outlook on the trendy retailer has seriously evolved with the times. The clothes are definitely of better quality, they make adorable home goods, and their new in-store beauty boutique is the bomb. Best of all, it's still affordable AF.
Like I said, my shopping habit waits for no specific day, and neither do Forever 21's sales. They're offering Black Friday deals right now, and because it's not 1999, the sales are all available in stores and online. Here's what I think will be flying off the shelves.
Half Off Winterwear, Because Winter Is Coming
If you're a true Game of Thrones fan like I am, that line will never get old. Forever 21 collaborated with vlogger Jessica MacClearly to show off some of the best items to score from this 50 percent off sale. Check out her video below, and keep scrolling for my own picks. All of the prices listed below are the half-off sale prices!
Faux Suede Moto Jacket
($32; forever21.com)
MacCleary and I both agree on this one - I am like a magnet to a cute moto jacket. And a fuzzy-lined one like this will keep you warm up until Christmas.
Ribbed Hooded Cardigan
($13; forever21.com)
I can't get through the winter without a cozy cardigan, and the hood on this one takes it over the edge.
Metallic Knit Top
($16; forever21.com)
Luckily for you and me, Forever 21 doesn't limit winterwear to outerwear. Can you say luxe AF? Can you also go buy this right now?
High-Low Wrap Dress
($13; forever21.com)
This long-sleeved wrap dress is on point. Plus, when you're done eating all that turkey, just loosen the dress!
Zippered Ankle Sweatpants
($14, forever21.com)
A good pair of "sweatpants" that aren't actually made out of sweatpant material are key. You can get away with wearing these pretty much anywhere, and still feel like you're in your pajamas.
Sweater Prices That Won't Make You Sweat
Starting today, Forever 21 is selling some of their cutest knitwear starting at $7. And because you're here for a good bargain, let's take a look at some of those single digit price tags, shall we?
Classic V-Neck Sweater
($7; forever21.com)
A classic V-neck sweater and jeans is my go-to winter outfit. Seriously, that's all you need.
Striped Knit Sweater
($9; forever21.com)
This slightly-cropped style is perfect for those of you (and me) who want something between a muumuu-like tunic and one of those crop tops that is really just a sad excuse for a bra.
Miscellaneous Must-Haves
While the above sales are the two major pre-Black Friday specials, there are plenty of other insanely affordable deals to shop.
Ribbed Knit Beanie
($3; forever21.com)
Alert! This cozy beanie costs three dollars. It comes in five colors and I might just buy all of them.
Fuzzy Knit Sock Set
($5; forever21.com)
Are you read for the best news ever? These baby animal-like socks are $5 for a set of two. You don't have to choose which color you want, you get both!
Won't you feel better if you've completed all your Black Friday shopping before the day even begins? Head over to Forever 21's site and shop now, then sleep as late as you want come Friday.