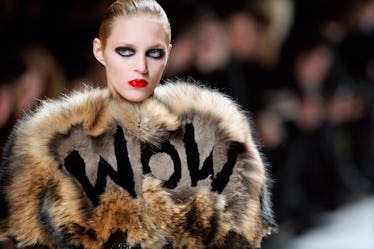 Cute Winter Coats That Actually Double As Going-Out Outfits
PIERRE VERDY/AFP/Getty Images
Despite the unseasonably warm temperatures much of the country has experienced, winter is actually coming, OK, and it will be here before you know it. Don't get too down in the dumps over the cooler weather though, because this means cute coats for winter. I'm not talking about the dreary down jackets of childhoods past - upgrading your outwear to be as expressive and punchy as you are is easier than ever.
Designer duds can drain your bank account faster than you can say Chanel. Add in shearling or high quality wool and I'm talking serious bucks. While many celebs sport real fur (remember the Rihanna Fenty x Puma vs Kim Kardashian fur slides debacle?), faking it is leagues more affordable and animal-friendly to boot. You don't need to spend thousands of dollars on a designer parka to keep you toasty AF.
Gone are the days of one winter coat to wear day in and day out. Outerwear is a fashion statement in and of itself. This winter, pick a coat that is the outfit. And with these prices, why stop at just one? You can thank me later. Check out all the celebrity inspired winter coats below that won't result in an overdraft.
Leopard print faux fur is 100 percent guilt-free and 100 percent fierce. Pair it with some red accessories and you'll look scorching hot, unlike the weather.
Is it possible to 'ship a coat? This is what my technicolor dreams are made of. Warning: This statement maker is not for the faint of heart.
Pastels? For Winter? Groundbreaking. But actually, and bonus points if your hair matches. This is a stand-out coat, and that's just what you'll do if you wear it. You don't even need to go all-out on the rest of your look, because a simple t-shirt or sweater and black jeans are all you need.
Shearling moto jackets are HUGE right now. Ever since Acne's nearly $3,000 Velocite jacket hit the market, celebrities have been fawning over it and I've been craving an option that won't leave my wallet high and dry. If you're one of the lucky ones that can afford it, be my guest, but can I borrow it?
This maroon version is a subtle way to spice up your otherwise drab winter wardrobe. Careful about wearing it with other shades of red, but other than that you can treat it as a neutral. It will even go with that 'unique' scarf your grandma knit you last Christmas that you still haven't worn...
Literally drooling. Luxe AF. So fetch. Can gold be the new black? Real leather and shearling will cost you a pretty penny, but this affordable, vegan option is equally chic. Kendall Jenner even wore a similar style, need I say more?
Speaking of metallics, silver doesn't always have to be in second place. Puffer jackets will get you major street style points. And if you live somewhere with real winters (sorry, California), you'll actually need this blizzard-friendly style.
This puffer is so stylish it's practically runway ready. It's unbelievably comfortable and will have you hoping winter never ends. I want to live, sleep, and die in this coat.
Another oft-taken celeb coat route is the ever-elegant wool coat. It's one of the more versatile styles out there - perfect for anything from running errands to a swanky night out. Show off your inner boss in this power player.
Can it get more Instagram worthy than this Millennial pink coat? While still sophisticated, this trendy color will show off your fun side. Make your whole outfit a light-colored delight with light-wash denim, a heather grey beanie, and slip-on Vans.