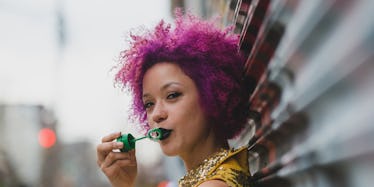 5 Natural, Healthy Ways To Add Some Color To Your Hair Without Using Toxic Dyes
I get it -- you want to change your look, but you don't want to deal with the potential consequences of using any harmful chemicals on your body just to achieve that upgraded appearance.
Though the hair dye aisle in your nearest drug store may be tempting to peruse, it's honestly not worth the damage that you'd inevitably be wreaking on your precious mane.
Honestly, the sheer fact that there are apparently over 5,000 carcinogenic (cancer-causing) chemicals used in hair dye is just too much for me to handle.
If you're desperately looking to do something new to your hair, but would rather not risk the health of your luscious locks, it may be worth your time to look into some alternative, healthier ways to add color.
Of course, there is a bit of a give-and-take here.
No, you won't be able to achieve that drastic Katy Perry pink, or that striking Kylie Jenner blue, but you will see a difference in hair color, so give it a try, and take a look at these five healthier options.
1. Coffee
Coffee is never not winning, amirite?
Use coffee grounds on your hair if you're looking to go darker.
To ensure that the color stays, use apple cider vinegar to rinse -- it helps with sealing the color (and, because I'm lookin' out for you, boo, ACV will honestly change your life in so many more ways than just this).
2. Beet Juice
If you know literally anything about beets, you're probably already aware that beets stain sh*t like it's their damn job.
Having said that, if you're looking for a reddish hue for your locks, then beets are your natural go-to.
Run to your local supermarket and load up on those bad boys.
3. Carrot Juice
Carrots can also bring out those red tones in your hair.
Only, it'll be more of a reddish-orange color, of course.
Blend some carrot juice together, let it sit for an hour, then rinse.
If you want a more potent color, repeat the process until you're satisfied.
4. Tea
Chamomile tea can be used to lighten your hair, while black tea can be used if you're looking to go darker.
However, if you're blonde, then black tea actually won't be a strong enough pigment to darken your hair, and may even leave your strands looking a bit dull.
Brunettes, on the other hand, are in luck, as the tea will add a nice warmth to your natural color.
5. Walnut Shells
This one blew my mind, but yes, walnut shells can apparently alter your hair color, as well.
If you go for this method, your hair will take on the hue of the shell color: dark brown.
All you have to do is crush the walnut shells, and boil them for at least an hour -- but the longer the shells boil, the stronger the pigment will be.
Once they're finished boiling, strain the crushed shells, let them cool off a bit, and apply the mixture to your hair.