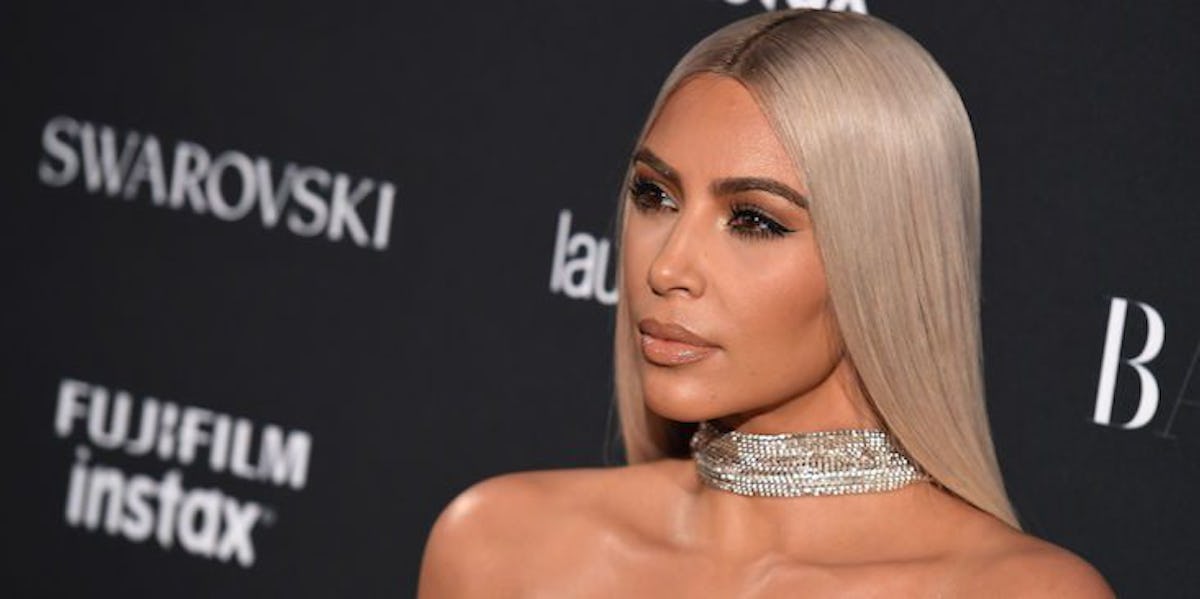 Kim Kardashian Is Being Called Out For Copying Rihanna And The Tweets Are Brutal
ANGELA WEISS/AFP/Getty Images
Is originality completely dead? I'm not trying to be dramatic (well, maybe a little), but sometimes it feels like there are no good new ideas anymore. Sigh. The latest: Kim Kardashian's fur slides copy Rihanna's FentyxPuma slides and people are not having it.
Yep, Kim K has been accused of knocking off Rihanna's fuzzy sandals and, because social media exists, there is plenty of drama on Twitter. It all started innocently enough when Kardashian posted a pic of the beige faux fur slides. Cute? Cute.
Also cute? Rihanna's FentyxPuma slides. Oh yes, people are dragging Kardashian because her sandals look pretty damn similar to Rihanna's slides.
Responses to Kardashian's tweet about the new sandals had some love, with comments like: "These are cute!," and "It looks really classic." Most of the responses weren't quite so positive, however.
Others immediately noticed that the sandals looked a lot like the FentyxPuma slides, with tweets including: "Hmmm these look kind of familiar," "Fenty by Puma collab?," "lmao y'all need to stop being unoriginal," "I'll rather buy my gf Rihanna's fenti slides," and "@rihanna 's fenty slides are cuter." Others tweeted, "Lmaoooo aint these like @rihanna slides??????" and "but ... rihanna did fur slides already."
Furry slides, however, are available from a number of designers, plus Rihanna's also have PUMA written in the fur, so they're not identical, but still... total Twitter outrage.
First, take a look at Kardashian's furry slides:
And here are Rihanna's... yep, similar:
One person called out Kardashian, writing: "Rihanna just scalped you in the makeup game. You sure you wanna try her with the slides sis?"
This person wasn't dealing with any of it, tweeting: "I've been blocking everything irritating I see on Twitter, I blocked Kim Kardashian for copying Rihanna slides." Harsh.
And what about this situation can't be summed up with a Rihanna gif?
An eyeroll response seems appropriate as well, so here you go:
Another Kardashian fan loved the slides, tweeting: "Okay I need a pair of those for myself I can't find a decent pair of slides that I like and they would be perfect." One Twitter user pointed her to Rihanna's shoes, noting: "Try Rihanna's line. Are probably a lot more affordable than these rip offs."
Others were just enjoying all the Twitter rage, with one person tweeting: "The way everybody coming for Kim bout them fur slides with Rihanna gifs & memes."
How about a little conspiracy theory in the mix? You've gotta have at least one of those, so chew on this notion: "Rihanna dropped some slides, Kylie didn't get invited to Rihanna's release, unfollows Rih, and now Kim stole her slides lol."
Not everyone, however, was piling on the hate, with comments such as: "exactly. damn near all the brands have slides like rihanna's they be so quick to find a reason to hate the kardashians."
Another Twitter user pointed out: "Rihanna didn't invent the fur slides but she definitely made them trendy again."
And still another person noted that while Kardashian's sandals appear to be knock-offs, Rihanna probably doesn't give much energy to that kind of stuff anyway, explaining: "Kim goes ahead and launches fur slides? It's a good thing that Rihanna doesn't give a f*ck about copy cats."
Where do you land in the debate over Kim K.'s furry slides? Are they knock offs or just inspired by Rihanna's sandals? They say "imitation is the sincerest form of flattery," so maybe Kardashian's slides are just drawing a little inspo from Rihanna's design.
Check out the entire Gen Why series and other videos on Facebook and the Bustle app across Apple TV, Roku, and Amazon Fire TV.