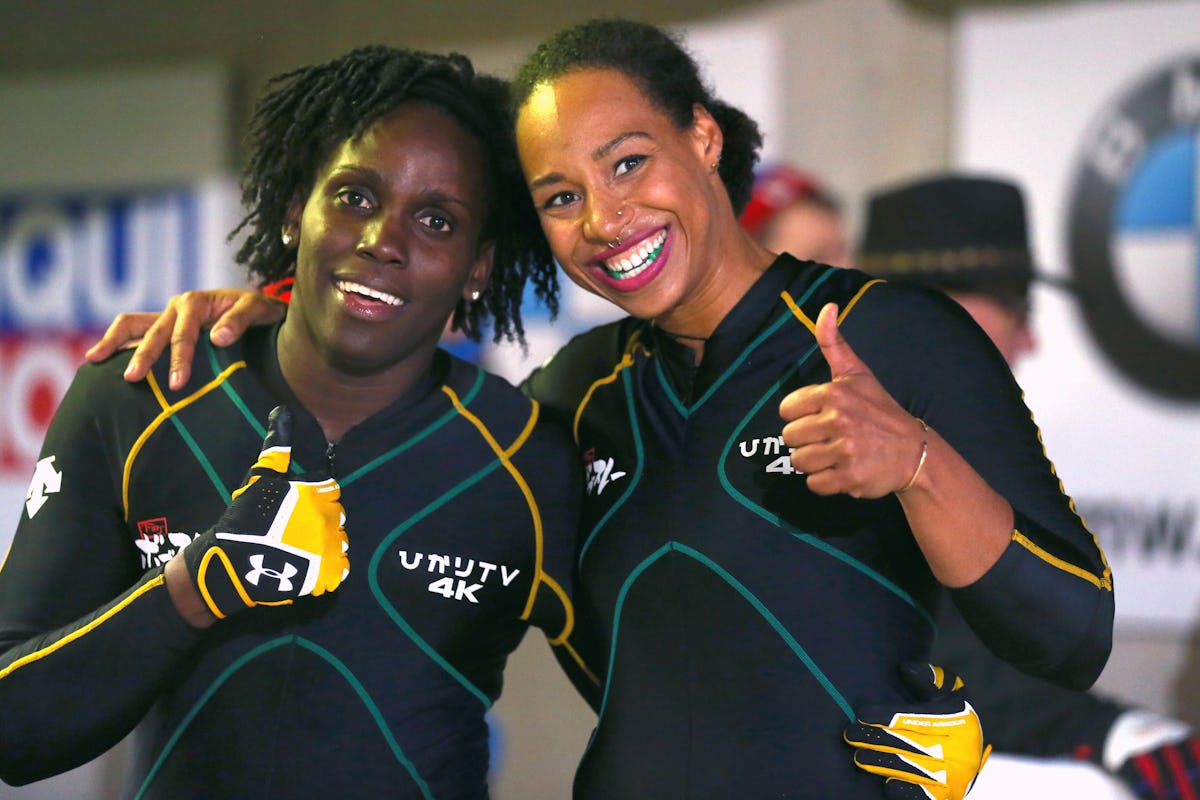 Here's How To Follow The Jamaican Bobsled Team On Instagram So You Don't Miss A Single Thing
Alexander Hassenstein/Getty Images Sport/Getty Images
It's the amazing Cool Runnings sequel we've all been waiting for — The women's Jamaican Bobsled team made its debut at the 2018 Olympic Games in PyeongChang 30 years after the men's team participated for the first time at the 1988 Winter Games in Calgary. That's a pretty amazing story right there. So you should probably go follow the Jamaican Bobsled Team on Instagram ASAP so you don't miss a single epic moment — especially now that the team's coach has resigned just a few days before the start of competition. But I'll get to that little bit of drama in a minute.
Some history first: This is the first women's bobsled team to ever compete for Jamaica in the Winter Olympics. The two-person squad is made up of Jazmine Fenlator-Victorian — who will pilot the sled — and Carrie Russell, who will be the push-man and brakeman. Audra Segree is the alternate brakeman.
If you want to follow the women's team on social media as a whole, you can find them on Twitter, Instagram, and Snapchat under the same name: @jambobsled. Cool name, right? And you can also follow each of the women on Instagram individually. Russell's account is @_carrie_russell, Fenlator-Victorian's is @jazminefenlator, and Segree's is @mzaudra_segree.
The competitors' posts have been filled with excitement over the last month, and it's been a pretty great thing to witness. "Congrats to US!!!!!!," Segree wrote on Instagram on Jan. 15. "It wasn't a easy journey, but we work together and made the impossible possible!! Made history for ja to be the first woman bobsleigh team. We going to the Winter Olympics 2018."
Can't you just feel it?! And the enthusiasm has only escalated since the crew arrived in South Korea. "The 2018 Winter Olympic Opening Ceremony for @pyeongchang2018 was indescribable and absolutely amazing last night," Fenlator-Victorian wrote on Feb. 10. "So many athletes from so many nation's, men and women, diverse backgrounds, cultures and more. We all came together and marched with pride representing our nations and sports on so many levels. What an honor and privilege to be amongst the world's best of the best!"
She says "marched," the internet says "danced." Because it all seemed like one big party as the team basically jammed out when they made their entrance during the Opening Ceremony. And, like, wouldn't you have, too, if you were making history with every single step?
Fenlator-Victorian, Russell, and Segree were guided by coach Sandra Kiriasis, a former Olympic champion, to become the first Jamaican women's bobsled team to qualify for the Winter Olympics. She even helped them come up with the name of their sled —  "Mr. Cool Bolt," in a nod to the movie Cool Runnings, and to retired Jamaican track star, Usain Bolt. Which is why it was all so crushing when the news hit that Kiriasis had quit.
"Sandra Kiriasis has elected not to continue her position," Jamaican bobsled officials said in a statement on Twitter. "We are deeply disappointed in her decision to leave the program. We thank her for her invaluable contribution to JBSF and contributing to the success of Jamaica's first female bobsled Olympic appearance."
So what happened between the time pictures, like the one below of Kiriasis and Fenlator-Victorian with the PyeongCheng mascot, were taken and now?
According to the BBC, team officials reportedly asked Kiriasis to change her role from driving coach to track performance analyst. Instead she quit, since the move would have given her no access to the team members. And because the truth is sometimes stranger than fiction, it turns out that since Kiriasis reportedly owns Jamaica's sled, if she takes it, the athletes may not be able to compete.
Couldn't make this stuff up! I guess we'll find out how this story ends on Tuesday, Feb. 20, when Jamaica is scheduled to compete in the Olympic bobsled competition. Until then, I'll just keep refreshing.