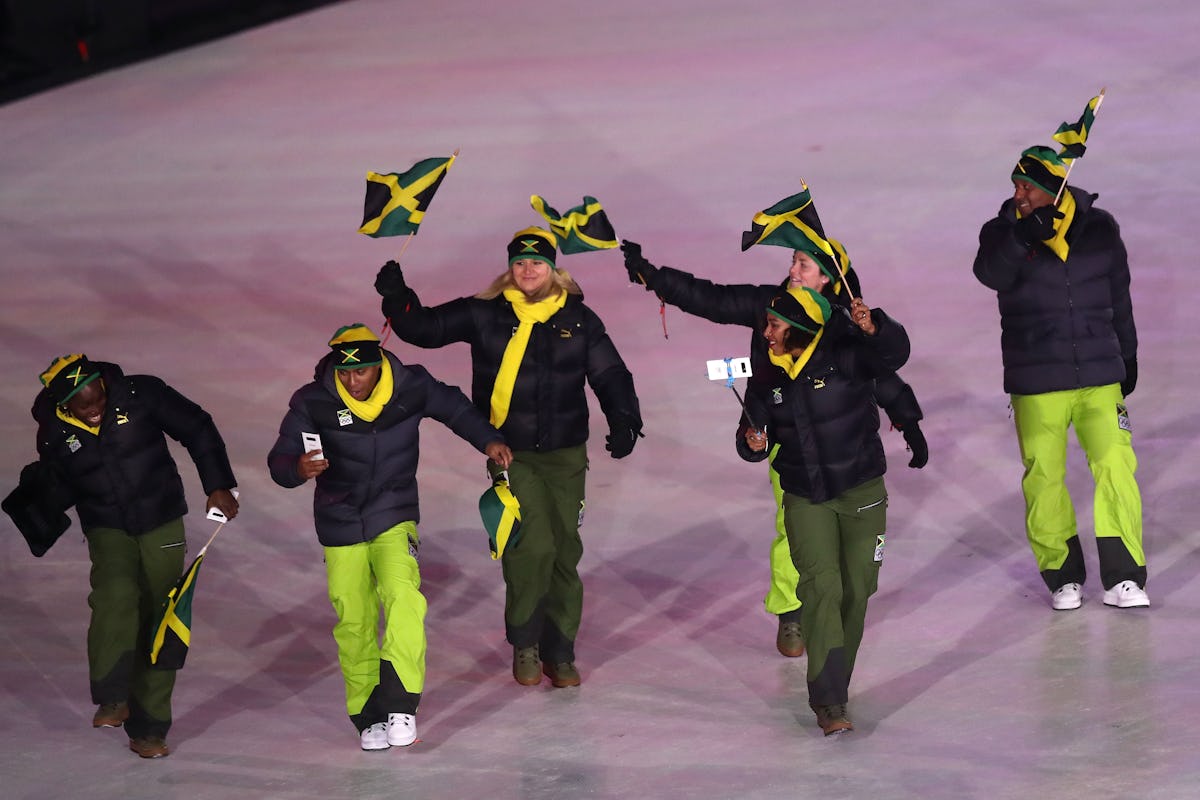 Jamaica Basically Had A Party At The Opening Ceremony & Twitter Is Loving It
Ronald Martinez/Getty Images Sport/Getty Images
The 2018 PyeongChang Winter Olympics are officially underway, and there's nothing I love more than watching the countries compete for medal standing. One of my favorite highlights thus far was seeing Jamaica's opening ceremony uniforms. Not only were they so major, but watching the team dance down the circular platform totally livened up the ceremony. I'm #TeamUSA all the way, but I'm definitely rooting for the Jamaican women's bobsled team.
I was a bit preoccupied excitedly looking for Team USA, but even though I'm super patriotic (and rooting for Team USA to sweep the Olympics) I couldn't wait for Jamaica to come out. I love everything about Jamaican culture, and the fact that Jamaica has their first women bobsled team is so inspiring. This is literally the epitome of "OK ladies now lets get in formation."
The Jamaica squad came to win and their uniforms proved it. Like hello, green pants?! I'm normally not a fan of lime green, but I totally need a pair of lime green ski pants in my closet. Among a sea of pretty neutral opening ceremony uniforms, this was a much needed break of color. Total spoiler moment if you haven't seen the opening ceremony, but the team was feeling themselves so much that they DANCED down the circular pathway.
Naturally, Twitter got all heart-eyed emojied at Jamaica, aka the life of the opening ceremony party.
One user included Jamaica's dance intro with all of her fave opening ceremony moments.
"favorite things of the #OpeningCeremony walk-in: Brasil, Ireland, India, the dance circle, Jamaica, "Fantastic Baby" by Big Bang, @TukRoll's tweets, girl from Turkey winking, TONGA, Korean athletes walking together"
Some missed the walk through, but Twitter came through in the clutch.
"PH why you fail me like this??!!!! No streaming for the Opening Ceremony???? Can't believe I've missed Jamaica's lit entrance." Lit entrance is exactly right, and I'm feeling for this person.
Although the team is totally winning the opening ceremony, the road to the Olympics has been far from easy. The team had to change up their bobsled equipment mid-season because it didn't meet official requirements, and according to McClatchy, they're currently using a rental.
"The equipment was not viable for us in order for us to qualify for these Olympics," said Jazmine Fenlator-Victorian, the team's pilot. "So in the middle of the season we had to kind of make an emergency change to have competitive equipment."
That's not stopping the ladies though, because they're ready to make history. Not only are they the first females to represent Jamaica in the women's bobsled category, but they're also taking the track over 30 years after the men's team. If you're not familiar with that inspiring story, please watch Cool Runnings this weekend.
Teammates Carrie Russell, Audra Segree, and pilot Jazmine Fenlator-Victorian named their bobsled "Mr. Cool Bolt" to honor their predecessors: This is an homage to Cool Runnings, and retired Jamaican track phenomenon, Usain Bolt.
So why did the bobsled team decide to dance when they came out during the opening ceremony? Not only did they want to pay homage to their country and showcase the spirit of the past, but they also wanted to mark a fresh new chapter in Jamaican bobsledding.
"We're trying to change that narrative," said Fenlator-Victorian. "We know that we're one of the best on the hill and we hope that we can optimize our potential when it counts in PyeongChang."
I get chills thinking about what an amazing missive that is, and can't wait to see team Jamaica in action. Good luck ladies, and come competition time, may your loading be in formation!