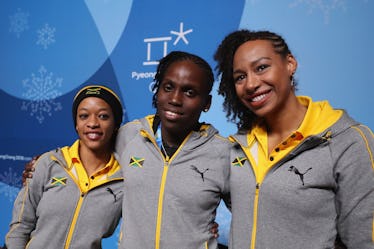 The Women's Jamaican Bobsled Team Schedule At The 2018 Winter Olympics Will Get You Pumped
Ker Robertson/Getty Images Sport/Getty Images
The creators of Cool Runnings might want to consider making a sequel after the 2018 PyeongChang Olympics. In 1988, Jamaica's first-ever bobsled team competed in the Winter Olympics in Calgary, prompting a classic sports film to be made about it afterward. Now, 30 years later, Jamaica's first all-women bobsled team has qualified for the Winter Olympics and is set to compete in PyeongChang later this month. The women's Jamaican bobsled team schedule at the 2018 Winter Olympics is one schedule, in particular, that viewers will be taking note of since their participation in this year's games is so historic.
The team is led by Jazmine Fenlator-Victorian, who was born in the U.S. but is Jamaican herself. She led the U.S. team as the pilot at the 2014 Sochi Olympics. She'll be representing Jamaica with Carrie Russell, who is an elite sprinter from Jamaica. Russell is competing as the push-man and brakeman for Team Jamaica. Fellow sprinter Audra Segree was selected as the alternate for the team, which will be competing in the two-man women's bobsled competition.
The two-man women's bobsled competition is set to go down on Feb. 20 and 21, and fans can't wait to see the inspiration for the (probably) eventual Cool Runnings all-female reboot take place. It just wouldn't make sense not to make a movie about this!!
In order to watch the Jamaican bobsled team compete at the 2018 PyeongChang Olympics, you'll either have to have access to cable or internet. All of the Olympic events will be aired on NBC, but if you don't have cable, you can watch the Olympics livestream at NBCOlympics.com.
Fenlator-Victorian knows how momentous her team's appearance at the 2018 PyeongChang Olympics is for young black girls with Olympic dreams.
In an Olympics press junket on Feb. 10, she said, "To embrace that, to embrace my diversity. That's why I came home." (Although she grew up in the U.S., Fenlator-Victorian's father is from Jamaica.) She continued through tears,
It's important for me that little girls … little girls and little boys see someone who looks like them, talks like them, has the same culture as them, has the same crazy, curly hair and wears it natural, has brown skin, included in different things in this world. When you grow up and you don't see that, you feel that you can't do it. And that is not right. So, coming back home to Jamaica, I wanted my Jamaican people to see they could do it. And there is not just one path that way or one path this way to get out of poverty, to make money or to make a name for themselves. If they want to be a Winter Olympian and do alpine skiing, now they see their fellow Jamaicans doing it.
Fenlator-Victorian, Russell, and Segree's two-man women's bobsled heats will start around 6:50 p.m. EST on Tuesday, Feb. 20. The second heat will start about an hour later. The third and fourth heats (with the fourth determining who wins what medals) will start on Wednesday, Feb. 21, around 6:40 p.m. EST and 7:50 p.m. EST. Although this marks the second time Jamaica has been at the Winter Olympics for bobsledding, they've never taken home the gold. Only time will tell if they will this year! If they do, I expect a Cool Runnings sequel RIGHT AWAY. Only the best for these women, do you hear me, Hollywood?!
Erin Jackson is an inline skating world medalist and roller derby MVP. She dreamed of skating in the Olympics, but to do that, she had to get on ice. She took her first steps on a long-track course in 2016 and started training professionally in September 2017. Four months later, she qualified for the Olympic Winter Games. Check out Elite Daily Insights' video on Jackson's incredible story:
To learn more, visit teamusa.org. The Winter Olympics will air live starting February 8.