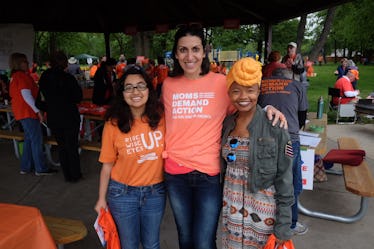 Fayrouz Saad's Candidacy Is About More Than Being The First Muslim Congresswoman
Fayrouz Saad For Congress
With the wave of diverse candidates running for office, including record numbers of women, there are plenty of representational barriers that stand to be broken in the 2018 midterm elections. But Fayrouz Saad, who could be Congress' first Muslim woman, doesn't want you to spend too much time focusing on that. Instead, what the Lebanese-American and Michigan native wants to focus on is how her personal identity can offer some important perspective.
It's the first time the 35-year-old, in the race for the Democratic nomination for Michigan's 11th district in the U.S. House of Representatives, is running for public elected office. She's part of a cohort of young progressive candidates from outside the political establishment seeking to change the face of the country's political representation — and winning (see: Alexandria Ocasio-Cortez, the 28-year-old Latina from the Bronx who recently bested a longtime incumbent twice her age in New York's 14th district).
I just happen to be Arab American; I just happen to be Muslim.
This year's midterms could result in many firsts for the country: the first black female governor and first indigenous woman in the House, to name a few. And Saad is one of a few candidates nationwide who could become Congress' first female Muslim representative. But while the novelty of being a "first" is noteworthy, Saad wants to get beyond that label.
"I don't want people to see me as potentially the first Muslim woman Congressperson," she tells me in an interview for Elite Daily. "I really want to be seen as a progressive Congresswoman who's going to go and fight for these values ... and not necessarily that I'm running to be the first Muslim Congresswoman."
She adds, "I just happen to be Arab American; I just happen to be Muslim."
Saad's background alone is enough to turn heads as a political candidate. She graduated from both the University of Michigan and Harvard's Kennedy School of Government. She served under President Barack Obama in the Department of Homeland Security from 2009 to 2011, working on community policing and infrastructure, counter terrorism, and cybersecurity, and in 2015 became the first director for Detroit's Office of Immigrant Affairs under Mayor Mike Duggan.
She's also served on the board for the state chapter of Emgage-USA, a group that promotes Muslim-American participation in civic activities. These experiences have helped inform her policy priorities, which include a $15 minimum wage, paid family leave, universal healthcare, and a path to citizenship for immigrants.
Professional qualifications aside, it's her perspective gained from her personal experiences that she hopes to bring to Congress. As the daughter of two Lebanese immigrants — and named after the legendary Lebanese singer Fairuz — Saad has been invested in the Detroit community, where her father owns a meat market, since childhood.
In fact, her immigrant-family upbringing is a big part of why she got into public service in the first place. "[I] really believe that I'm the product of the American Dream and want to do everything I can to protect it, because my entire life has been shaped by it," she says. "Being an Arab-American Muslim woman, I'm what that means. ... It's about trying to bring that perspective to Congress."
And voters, from her experience campaigning on the ground, want to focus on that, too.
[People are] looking for leaders who are ready and able and have been taking really strong and stances.
"No one actually asks about that," she says of voters' responses to her identity as a Muslim and Arab-American woman. "People just ask me about where I stand on the issues. They want to know how I feel about health care, what's happening on the border, how I feel about family leave policies."
"That's what people are looking for right now," she adds. "They're looking for leaders who are ready and able and have been taking really strong and stances on some of the most controversial, but critical, issues."
Michigan's 11th district is a "pivot" area that voted for Barack Obama in 2008 but went for Trump in 2016, so there's no guarantee of a win for either party. The district is rated by Cook Political Report as being four points more Republican than the national average, and the primary on Aug. 7 is regarded as a toss-up in polls. The race is particularly competitive in part thanks to the fact that incumbent Rep. David Trott, a Republican, announced he was not seeking reelection. Saad's competition in particular, facing four other Democrats vying for the seat, is steep.
Whether Saad wins the primary or not, if a Democrat wins in the general election in November, period, it will be a big deal for the district. U.S. House election data shows that Michigan's 11th district has elected only Republicans to the seat since 1966. (Democrat David Curson briefly held the seat while filling a remaining term following the resignation of Republican Thad McCotter in 2012.)
As a candidate backed by progressive political action committee Justice Democrats, Saad has pledged not to accept corporate PAC donations or corporate lobby money. According to data from the Federal Election Committee as of July 18, about 70 percent of the total $655,429 were individual contributions of $2,000 or less. Her fundraising total to date, her campaign says, is currently $711,000.
This is really an election about people's values.
In seeking the House seat, there's no question that Saad wants to be a voice at the table for her community. In fact, it's because she might be the first Muslim woman in Congress that she thinks it's more important than ever to focus on the perspective she can bring to those issues. That input, in turn, might have bearing on numerous policy issues already at play in the Trump era.
The attempt to repeal the Affordable Care Act (ACA) in May 2017 was just one example. "Frankly, 12 men got in a room and tried to make a decision … for a country that's 51 percent female, and completely not representative of me," she says, referring to a group of 13 Republican male senators tasked with writing the legislation, a panel which was heavily criticized at the time for being exclusively white and male. Such a repeal, Planned Parenthood estimated, could cause 55 million women to lose access to no co-pay birth control. "Being a woman was a preexisting condition," Saad says.
The battle over health care is among a host of Trump-era politics that have affected Saad or her community directly, another being the travel ban targeting Muslim-majority countries, which the Supreme Court upheld in June. "If my parents were trying to immigrate over today, there's a good chance they wouldn't be granted visas," she says. She also cites a recent move to release some immigrants from service in the military.
"This is really an election about people's values," Saad adds. "We're at a critical point in our country, and it's not just who we elect in November, but it's who we put on the ballot to elect in November."
As for Trump's zero-tolerance immigration policy, which seperated thousands of children from their families at the southern U.S. border, the former director of Detroit's immigration office says, "If nothing else, it's been a constant reminder of why I'm doing this and why I'm in this fight."
Policy aside, the Trump era itself has coincided with a wave of hostility towards Muslims. According to an April 2018 study by the Council on American-Islamic Relations, hate crimes against Muslims in the U.S. in 2017 rose 15 percent from the previous year. An FBI report from November 2017 also found that hate crimes against Muslims had risen dramatically in 2016, while The Washington Post found that hate crimes with a "racial or ethnic bias" spiked the day after Trump was elected in November 2016, going up from 10 to 27, though that data was not Muslim-specific.
The way our elected leaders talk about issues and talk about people, it informs public opinion.
But in Michigan alone, multiple Muslim candidates running up and down the ballot are gaining national attention as part of what The Washington Post called the "blue Muslim wave." Muslims make up about 1 percent of the U.S. population, according to Pew Research, and that figure is expected to double by 2050. But Michigan is home to about three times that national average, according to the Institute for Social Policy and Understanding, with about 2.75 percent of its population identifying as Muslim.
Having a voice at the table in itself might not solve all problems, but Saad highlights why it's an important starting point. She says,
In 2016, what I learned is that the narrative in this country really matters. The way our elected leaders talk about issues and talk about people, it informs public opinion. It then begins to inform public policy, and then we find it making its way into law, into legislation, into programming at different agencies, and then maybe even the way our judicial system is making its decisions. The tone is really set at the top, and that's what we have to start to change and adjust.
Saad's emphasis on her platform highlights the broader questions of what roles platform and identity play in voter behavior. Most voters presumably aren't just checking boxes based on demographics alone, but that doesn't mean that the identity of a candidate doesn't play a role. A 2016 study by Duke University researchers found that, particularly when voters are choosing among a swath of ideologically similar candidates, the identity of the candidate can outweigh their platform.
So it's worth taking into account what candidates with diverse backgrounds can mean for voters. But platform — like Saad says — is what a lot of voters seem to be looking at. "It's not simply identity," as Gender Watch 2018 expert contributor Dr. Wendy Smooth told me in April about female candidates of color. "Candidates are going to have to be successful in speaking to the issues of the district." Whether Saad is able to do that in a district that's been held by Republicans for so long, and in doing so become (one of) America's first Muslim Congresswomen, still remains a question mark.
Victory or not, Saad, and plenty of other women like her, have made it clear that they're pushing to bring new voices to Congress. Time will tell if America's listening.