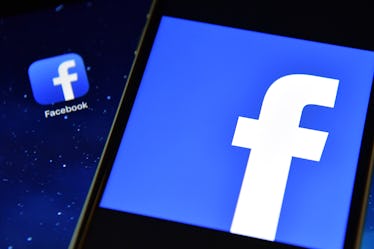 Facebook Is Getting Rid Of A Feature That You Might Get Your News From
Carl Court/Getty Images News/Getty Images
Facebook has announced that it is shuttering one of its most contentious features amidst increasing "fake news" controversy: the Trending feature. Since its launch in 2014, people have been utilizing Facebook's Trending for their daily news stories. Now, users may need to go elsewhere to stay up-to-date on the day's happenings, because Facebook is removing its Trending news section as soon as next week. Elite Daily reached out to Facebook for comment on the removal, but did not hear back by the time of publication.
In a press June 1 press release, Facebook revealed that the trending news box will be history in a matter of days, and that they are currently working on other features that they hope will improve user experience and trust on the platform.
"From research we found that over time people found the product to be less and less useful," the statement reads. "We introduced Trending in 2014 as a way to help people discover news topics that were popular across the Facebook community. However, it was only available in five countries and accounted for less than 1.5% of clicks to news publishers on average."
While Alex Hardiman, Facebook's Head of News Products, didn't go into more detail over the trending box's past issues, she revealed that Facebook users can expect to bid adieu to the feature sometime next week, and that the company will also "remove products and third-party partner integrations that rely on the Trends API."
Personally, I think this is a step in the right direction. Back in 2016, a former journalist working for the project claimed that Facebook workers purposefully filtered out conservative news sources in the past in a Gizmodo exposé. Elite Daily reached out to Facebook for a comment about suppressing conservative news, but has not heard back by the time of publication. After this revelation caused a media firestorm, Facebook attempted to fix the bias problem by axing the human editorial team and implementing an algorithm. Unfortunately, this anti-partisan algorithm was found to be more susceptible to false news, and reported misleading information to millions of Facebook users, according to NPR.
While they're in the early testing stages, Facebook's new products already sound a lot more promising. In the press release, the social media app hopes to focus more on the mobile experience as well as news videos with a proposed breaking news section called "Today In." While Today In looks pretty similar to the trending news box at first glance, it will hopefully take Facebook out of the equation by relying more on trustworthy news sources to curate the section. An example of this is the idea of a breaking news label, which Facebook is reportedly testing on 80 news outlets across North America, Europe, South America, India, and Australia. The publishers would have control over putting a breaking news label on their news feed stories, which Facebook will potentially then use to roll out breaking news notifications.
Facebook also hopes to jump on the rise in video consumption. In the statement, the company said, "We will soon have a dedicated section on Facebook Watch in the US where people can view live coverage, daily news briefings and weekly deep dives that are exclusive to Watch."
Amidst the cloud of controversy that has been hanging over the company's head in recent months, Facebook has been taking active steps to prove that it's still relevant and trustworthy. After a troubling March 17 story by the New York Times found that 50 million Facebook users' data had been compromised by Cambridge Analytica, the social media platform has finally become more transparent about its privacy policies. Saying goodbye to the trending news box and replacing it with stories curated by trustworthy news publishers is one more step that'll hopefully make users feel more comfortable with using Facebook.