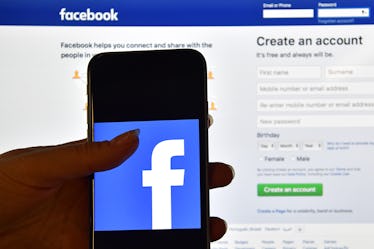 5 Facebook Privacy Settings You Really Should Know About
Carl Court/Getty Images News/Getty Images
U.S. Facebook users who are concerned about their data being misused by third-party apps and services got some disappointing news Tuesday, April 3, when Mark Zuckerberg declined to commit to Reuters reporters that Europe's strict privacy laws would be enforced globally. The European Union's General Data Protection Regulation (GDPR), which will replace a previous privacy law from 1995 next month, strictly enforces data controllers to clearly explain to people what personal data they intend to collect and for what exact purpose. The bottom line is that your personal data remains at risk, and instead of waiting for Zuckerberg to sort it out, there are a number of Facebook privacy settings you should really know about.
UPDATE: On Wednesday afternoon, April 4, Zuckerberg said in a call with reporters, "We intend to make the same [privacy] settings available everywhere, not only in Europe." He added that the company is figuring out "what makes sense in different markets with the different laws and different places," but, "we'll make all controls and settings the same everywhere, not just in Europe."
EARLIER: Gabriel Weinberg, who founded DuckDuckGo, a search engine that does not collect any personal data, reacted to Zuckerberg's wishy-washy comments on Tuesday. "This is a test by Zuck to see how much Americans and Congress will demand of Facebook," Weinberg said in a tweet. "We should rise to this test and demand equal application of GDPR in the US (from all major tech companies). This is concrete and can be done right now since it's already built for Europe."
Facebook has been in hot water since news broke of the Cambridge Analytica controversy last month, following bombshell reports in The New York Times and The Guardian that revealed the extent to which the London-based data mining and analytics firm allegedly misused user data from as many as 50 million Facebook users.
"Cambridge Analytica did not use Facebook data from research company GSR on the 2016 presidential election," the company said in a March 29 statement that detailed what data it used in the election.
Zuckerberg first addressed the controversy in a statement posted to Facebook on March 21, "This was a breach of trust between Kogan, Cambridge Analytica and Facebook. But it was also a breach of trust between Facebook and the people who share their data with us and expect us to protect it. We need to fix that."
The House Energy and Commerce Committee on Wednesday, April 4, announced that Zuckerberg will testify before the committee on Wednesday, April 11 at 10 a.m. regarding the company's use and protection of user data.
"This hearing will be an important opportunity to shed light on critical consumer data privacy issues and help all Americans better understand what happens to their personal information online," said Chairman Greg Walden and Ranking Member Frank Pallone, Jr. in a joint statement. "We appreciate Mr. Zuckerberg's willingness to testify before the committee, and we look forward to him answering our questions on April 11th."
But Zuckerberg's non-committal to extend strict privacy laws globally suggests that Facebook users ought take matters into their own hands, if protecting personal data is important to them. With that in mind, these are some measures you can take.