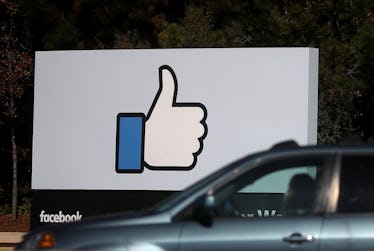 Your Facebook Info May Have Been Used By A Company Affiliated With The Trump Campaign
Justin Sullivan/Getty Images News/Getty Images
An exposé published Saturday, March 17 by The New York Times details the lengths a political firm allegedly went in its work for the 2016 campaign for Donald Trump. So, just what did Cambridge Analytica allegedly do on Facebook to influence the election? The group is coming under fire for allegedly misusing millions of users' information in seeking to influence voter behavior.
The Times, in a collaboration with London's Observer, published a report on Saturday, March 17 that found Cambridge Analytica had reportedly obtained the data of more than 50 million Facebook users leading up to the 2016 U.S. presidential election. Cambridge Analytica, per the Times, was founded by Trump's former Chief Strategist Stephen Bannon and Breitbart News founder Robert Mercer.
Cambridge Analytica denied claims made by the Times and Observer in a statement Monday regarding Facebook data usage. "This Facebook data was not used by Cambridge Analytica as part of the services it provided to the Donald Trump presidential campaign; personality targeted advertising was not carried out for this client either," the company said.
Cambridge Analytica reportedly received millions in investment cash from Mercer to develop its product: Tools that could identify voters via social media and influence their behavior using a psychographic analytical model. With Bannon on board, the firm reportedly got the gig as mind-readers for the Trump campaign leading up to the election, providing unprecedented psychological insight on potential voters. The Times reports the firm is still largely in possession of the data. (Serving as the linchpin for the Times/Observer story is Christopher Wylie, a key employee of Cambridge Analytica who worked there until 2014 and came forward as a whistleblower.)
In a statement released Monday, Facebook said it had hired a digital forensics firm to conduct an audit of Cambridge Analytica to review if users' data was in fact still owned by the firm. "This is part of a comprehensive internal and external review that we are conducting to determine the accuracy of the claims that the Facebook data in question still exists," their statement reads. The company also stressed that, presently, it "conducts a robust review" of all potential apps, adding that an app reportedly used by the group to gather user data "would not be permitted access to detailed friends' data today."
The political data firm was linked to the Trump campaign beyond its personnel. According to MSNBC, Parscale, Trump's son-in-law Jared Kushner, and campaign manager Paul Manafort were behind the Trump campaign's supposed hiring of Cambridge Analytica. The firm's product was reportedly designed to provide voter insight crucial to the digital front of the campaign and led by Brad Parscale, now Trump's 2020 reelection campaign manager.
"They want to fight a culture war in America," Wylie claimed of the firm's leaders, according to the Times. "Cambridge Analytica was supposed to be the arsenal of weapons to fight that culture war."
Cambridge Analytic reportedly paid Aleksandr Kogan, then a Cambridge University professor, to collect the data it would use to build voter profiles. Kogan reportedly gathered some of his data by asking users to take a survey and download an app which then scraped information from their own profile and those of their friends, the Times reports. He claimed to be doing so for academic research purposes, and Facebook allegedly did not vet how the users' information was being used, according to the Times.
Cambridge Analytica CEO Alexander Nix testified before parliament in February 2018, and at the time denied using Facebook data in its operations. But he later confirmed with other company officials in a statement to the Times that they had used such data, though they blamed Kogan for any malpractice in violation of users' privacy.
"In 2015, we learned that a psychology professor at the University of Cambridge named Dr. Aleksandr Kogan lied to us and violated our Platform Policies," wrote Facebook in a Friday statement. "When we learned of this violation in 2015, we removed his app from Facebook and demanded certifications from Kogan and all parties he had given data to that the information had been destroyed."
Kogan said in an email to university colleagues obtained by CNN that "we never claimed during the project that it was for academic research. In fact, we did our absolute best not to have the project have any entanglements with the University." Although the app was initially used for academic purposes, he claimed in the email, he updated the terms and conditions on Facebook to show users were giving the right to sell and license data. "Facebook at no point raised any concerns at all about any of these changes," he claimed in the email.
A Channel 4 news report released Monday says that among the tactics Cambridge Analytica allegedly discussed were framing candidates via hired sex workers and posing online using fake accounts. In a video of a Cambridge executive taken by an undercover Channel 4 reporter, Mark Turnbull discusses how the firm could prey on users' subconscious fears to influence behavior. "We entirely refute any allegation that Cambridge Analytica or any of its affiliates use entrapment, bribes, or so-called 'honey-traps' for any purpose whatsoever," a Cambridge Analytica spokesperson said in a statement.
Per a Times report Monday, Sen. Amy Klobuchar (D-MN) of the Judiciary Committee is calling on Facebook CEO Mark Zuckerberg to come before the committee. Per tweets by MSNBC producer Kyle Griffin, Rep. Adam Schiff (D-CA) has also asked Zuckerberg to testify before the House Intelligence Committee, as has the U.K. Commons Committee. Elite Daily reached out to Facebook for comment on these requests but did not hear back at the time of publication.
Britain is undergoing a similar process, according to the Times. Lawmakers there have called the firm to reappear before parliament in light of the Cambridge Analytica news. Similar to the U.S. Congressional investigations, British lawmakers are investigating the role of outside entities — Russia, for one — in its political process. The investigation into third-party meddling pertains to the vote on the Brexit referendum last year, a decision that signaled the U.K.'s exit from the European Union.
Facebook is receiving a lot of heat for allegedly not doing more to prevent the information of its users from being collected by the firm and for failing to inform users that their information was compromised, a move that could mean violating laws on both continents, according to the Times.
In a tweet, outgoing Observer editor John Mullholland claims Facebook threatened to sue the outlet the night before they went to press with the story. Carole Cadwalladr, a staff writer for the Guardian and Observer also said they were threatened with a lawsuit over Twitter and confirmed this to CBS. Elite Daily reached out to Facebook for comment but had not received a response at time of publication.
In a statement to the Times on Friday, Facebook general counsel Paul Grewel called Cambridge Analytica's work a "scam" and a "fraud," and pledged to take "whatever steps are required to see that the data in question is deleted once and for all — and take action against all offending parties." But a statement updated on Facebook's website Saturday said that any characterization of the actions as a "breach" were false, adding that all users involved in Kogan's data-gathering gave consent. Yet this amounted to only a tiny fraction of the overall users whose data was swiped, the Times points out.
Facebook executives Alex Stamos and Andrew Bosworth also denied via Twitter that the event amounted to a breach of user data. On Monday night, the Times reported that Stamos was leaving Facebook in large part due to ongoing disagreements about how to disclose Russia's use of the platform to influence elections. Stamos said on Twitter after the report that his role at the company changed, but he's still "fully engaged with my work at Facebook."
Suffice it to say, it's a messy situation all around for all parties involved, and it's likely that this isn't the last you'll be hearing about this.