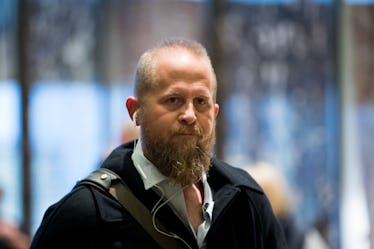 Trump Announced His Campaign Manager For 2020 & He's A Social Media Wizard
Drew Angerer/Getty Images News/Getty Images
President Donald Trump's 2020 presidential campaign has long been official, but now there's a campaign manager to cap it off. On Tuesday, Feb. 27, the internet freaked out over Brad Parscale, Trump's 2020 campaign manager. The move represents a promotion of sorts for Parscale, who was the digital mastermind behind Trump's 2016 campaign, which was managed by now-presidential counselor Kellyanne Conway.
Trump announced his official bid for reelection in 2020 back in 2017 just after taking office, per CNN. But on Feb. 27, the official Trump campaign announced that Parscale had the job.
"Brad is an amazing talent and was pivotal to our success in 2016," said the president's son Eric Trump in a statement. "He has our family's complete trust and is the perfect person to be at the helm of the campaign." And indeed, Parscale's Twitter bio already includes the new title.
Parscale had worked with the Trump Organization prior to joining the election team, but hadn't had a hand in politics before that, per CNN.
According to Wall Street Journal reporter Rebecca Ballhaus, the federal election records show that Parscale's firms have been paid over $93 million since 2015 by the Trump campaign for his work in digital consulting and advertising.
Parscale was instrumental in the "America First" campaign theme, working on a laptop he called "the Command Center," Bloomberg reports. In a 60 Minutes interview in October 2017, Parscale attributed Trump's win to the campaign's use of Facebook. During the campaign, he says, the team was cranking out an average of 60,000 customized ads a day. (A report this week revealed that Trump campaign's Facebook ads were effectively significantly cheaper than Clinton's.)
He appears to have hands in multiple honey pots: Aside from his work for Trump, he's got the web marketing and branding firm Giles-Parscale, where he serves as web director, and Parscale Strategies, which has contracted with the Republican National Committee (RNC). (As a side note, Giles-Parscale has a new team member: Lara Trump, the president's daughter-in-law and the wife of Eric Trump.)
But while he was formally serving at Trump's digital director last time around, CNN reports, Parscale's role wasn't limited to scheduling tweets. It ran the gamut of responsibilities around getting the message to voters, building up a base of small donors, and directing massive amounts of cash — $94 million roughly — to strategic advertising. Now, he'll be given even more responsibilities in taking on the role of campaign manager.
Jared Kushner, the husband of first daughter Ivanka Trump and a senior advisor to the president, also showered praise on Parscale. "Brad was essential in bringing a disciplined technology and data-driven approach to how the 2016 campaign was run," he said in the statement. "His leadership and expertise will be help build a best-in-class campaign."
On Twitter, users were making their opinions about Parscale known.
"Trump has long had a policy of keeping those who know where the bodies are buried (so to speak) as close to him as possible," wrote University of New Hampshire professor and attorney Seth Abramson. "The chances Brad Parscale was a major player in Trump-Russia coordination just increased 500% (and FWIW, it was already suspected)."
Meanwhile, Fox News' Lou Dobbs said Trump's decision to name Parscale to the position was a win, calling him "the smartest 2020 Campaign Manager."
Parscale's contributions to the Trump team aren't limited to the 2020 presidential race, though. Per the campaign's statement released Tuesday, he will also be trying to work his magic to harness voter energy for GOP candidates in the 2018 midterm elections this November.
While some are applauding Trump's decision to name Parscale to the role, the digital director isn't immune to the political drama that's plagued the Trump campaign from the last election cycle. In July, Parscale was asked to meet with the House Intelligence Committee regarding the investigation into Russian meddling in the 2016 election. At the time, Parscale posted his response to that request, saying he was "unaware of any Russian involvement in the digital and data operations of the 2016 Trump presidential campaign."
The exact extent of social media's influence in the 2016 election is still being determined. An indictment of 13 Russian nationals on Feb. 16 by FBI Special Counsel Robert Mueller detailed a massive campaign on platforms like Facebook to sway the outcome of the presidential race, including the use of fictitious accounts. Per Fortune, Parscale reported spending $70 million on Facebook advertising alone in the 2016 election cycle. Mueller's investigation is ongoing.
Trump has routinely denied collusion with Russia in the election, and on Tuesday, the president on Twitter made his latest claim that there was no foul play, calling the investigation a "witch hunt" for the 23rd time since taking office. Parscale, in the meantime, is busy working on getting and keeping Republicans — Trump included — into office.