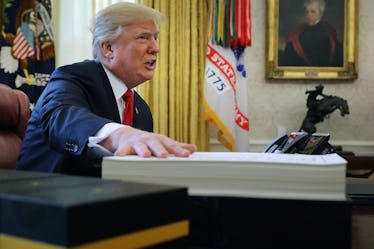 Trump Denied Russia Collusion 16 Times In One Interview & It's Honestly Impressive
Chip Somodevilla/Getty Images News/Getty Images
This week, the president pulled one of his signature moves: Winging it and not telling the staff. On Thursday, Dec. 28, while at his Mar-a-Lago resort in Florida, the president gave an impromptu interview to a reporter from The New York Times. In the interview, Donald Trump denied collusion with Russia 16 times in reference to the FBI's investigation into Russian meddling in the 2016 election. The investigation into possible collusion between the Trump presidential campaign and Russia is ongoing.
The interview wasn't just unplanned, but seems to have been unknown to senior aides. Washington Post White House reporter Josh Dawsey tweeted, "Asked fairly senior Trump adviser for thoughts on NYT interview a few minutes ago. Person responded: 'What interview? Today?'"
The conversation covered many topics, including Roy Moore, Jeff Sessions, and policy. But Trump seemed pretty stuck on the whole collusion thing. The president specifically denied any collusion on behalf of his team 16 times during the 30-minute interview (though all in all, he managed to use the word a total of 23 times). Well, that we know of. The Times mentions that this interview was edited and excludes off-the-record comments, so there could well have been more than that at the end of the day. In any case, it's still a lot.
One more time for the people in the back.
Trump managed to squeeze a miraculous number of denials into one interview. Referring to FBI Special Counsel Robert S. Mueller III and his investigation, Trump said, "I can only tell you that there is absolutely no collusion. Everybody knows it." At another point, he reiterated the sentiment, saying, "I think that Bob Mueller will be fair, and everybody knows that there was no collusion." (He repeated these statements two more times through the interview.)
Apparently that wasn't enough. In a later statement, he praised famed Harvard Law professor Alan Dershowitz, who has publicly defended Trump on the Russia investigation and has become an accidental figurehead for the right in doing so. Trump said of him,
I watched Alan Dershowitz the other day, he said, No. 1, there is no collusion, No. 2, collusion is not a crime, but even if it was a crime, there was no collusion. And he said that very strongly. He said there was no collusion. And he has studied this thing very closely. I've seen him a number of times. There is no collusion, and even if there was, it's not a crime. But there's no collusion.
Outside of denying his own inner circle's dealings, Trump in the interview accused the Democratic party of colluding with the Russians. (This is an unfounded claim.)
The repetition didn't go unnoticed.
On social media, lots of users noted Trump's repetition. "The president's sixteen denials of collusion with Moscow in this New York Times interview sound a lot like his prior, false denials of campaign contact with Russians," wrote Evan McMullin on Twitter.
"Trump repeats whatever he is fixated on over and over again," tweeted MSNBC correspondent Joy Reid. "I counted 15 'no collusion' repeats, sometimes two or three times in a single paragraph."
Speaking of: Is collusion a crime?
The president here claims it isn't. And his attorney Jay Sekulow, as The Hill points out, also said earlier this month in an interview with The New Yorker that since there was no statute or law being violated, criminal collusion is not a crime.
That part is true: Per The Washington Post, collusion is sketchy, but it's not a federal crime on its own. Though collusion alone isn't enough to prosecute, Mueller's investigation of it could lead to charges of obstruction of justice or conspiracy, both of which are crimes — and serious ones.
And the investigation itself seems to be stressing the president out, based on his Times interview. "It makes the country look very bad, and it puts the country in a very bad position," Trump said of the investigation during the interview. "So the sooner it's worked out, the better it is for the country."
Whether Mueller's investigation comes to the same conclusions that Trump has remains to be seen. And it's anyone's guess whether the 16-time repetition of his denial helped or hurt him.