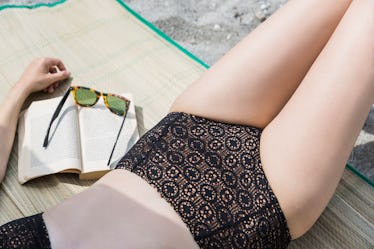 Everything You Need To Know About Your First Bikini Wax, According To An Esthetician
Summer is nearly here ladies, and that means beach days, boardwalk nights, and a free pass to practically live in your bathing suit for the next three months. Personally, I love spending my afternoons poolside, but what I loathe is having to spend my mornings meticulously shaving bikini lines to successfully mow away pubic hairs without any painful nicks. If you, too, would rather the area be spotless minus the grunt work, then you might be interested in finding out everything you need to know about your first bikini wax if you've yet to venture over to that side of the salon before.
Of course, remember that this is a matter of personal preference. Some women can get down with hair down there, wearing and flaunting their body hair proudly, and that's totally fine — more power to you. But, if you're wondering about what goes down during a bikini wax before making and committing to an actual appointment, that's understandable, too. To ease your mind a little bit, Elite Daily reached out to head esthetician and waxer for Trim and Reishi Beauty, Ewelina Luczak, to deliver all the deets on what goes on behind closed salon curtains, and the good news is, it definitely sounds more daunting than it actually is.