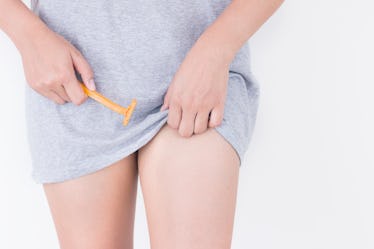 6 Tips For Preventing Razor Burn On Your Bikini Line When Every Other Method Has Failed You
Razor burn, no matter where it is on your body, just plain sucks. I'm pretty sure that since I started shaving at the ripe age of 13, I've felt the repercussions of nicks and burns on my legs, under my arms, and, of course, along my bikini line which, if you didn't know, is a nightmare. Because the skin down there is super sensitive, it can feel almost impossible not to shave without it hurting at least a little after the fact, but if you do your research on how to prevent razor burn on your bikini line, there are options, ladies.
No woman, whether it be her first or hundredth time shaving, should have to endure the painful sting of razor burn down there (or anywhere, really). I mean, the whole point of shaving is to be smooth and feel silky soft, not leveled and on freaking fire. But, anytime you take the plunge and put blade to skin, you're at risk of a potential scorching — at least, so it seems. Rest assured, it doesn't have to be that way, friends.
If you can't take the burn, that doesn't mean you have to get out of the bathtub and roam the streets with a braided bikini line for the rest of your life (but if that's your style hey, you do you). Here are a few tricks to try when everything you've done to avoid a bikini line burn hasn't been successful.