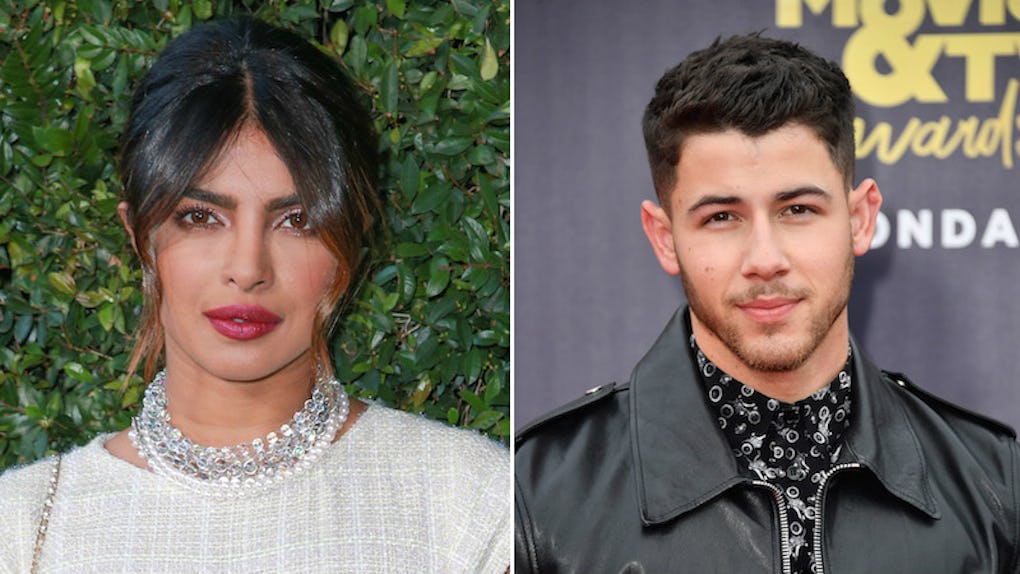 Rich Fury/Getty Images Entertainment/Getty Images and Frazer Harrison/Getty Images Entertainment/Getty Images
Everyone Priyanka Chopra & Nick Jonas Have Ever Dated, Because We're All Curious
Let me just start off by saying that I rarely develop celebrity couple obsessions. However, all of the buzz and speculation surrounding Priyanka Chopra and Nick Jonas is truly giving me so much life. Sometimes, when a new pair gets together, it just makes sense in a way that feels right. While I have no idea what's going on between these two behind closed doors — even though I would totally love to find out, TBH — the juicy tidbits we've been privy to here and there suggest things could be getting serious. Everyone Priyanka Chopra and Nick Jonas have ever dated might not be common knowledge, but that definitely doesn't mean that we all wouldn't like to know.
Chopra and Jonas were first linked in 2017 when they attended last year's MET Gala together, all the while insisting their very couple-y appearance was purely platonic, according to Bustle. Since then, the two have reportedly been dating, but have been doing a pretty impressive job keeping the details of their relationship somewhat under wraps. That said, someone close to the pair did suggest that things could definitely be headed in a more serious direction.
"Nick is super into Priyanka," the source told Us Weekly. "But he isn't the type to rush into an engagement. It wouldn't be surprising if they eventually get engaged, but he's not the type to propose right away."
With that in mind, let's look back at the exes (both rumored and confirmed) that Chopra and Jonas were with before they found each other.
Miley Cyrus
TBH, I had no idea this was a thing, but apparently one of Nick Jonas's first relationships was with then-Disney Channel star Miley Cyrus. According to Us Weekly, the two started dating in 2006, but by the end of 2007 they decided to go their separate ways.
Selena Gomez
Come 2008, Jonas started a romance with yet another Disney Channel sweetheart, Selena Gomez. According to Us Weekly, after dating for a few months they broke up and ended up getting back together in 2010. Sadly, this reunion was short-lived.
Delta Goodrem
Australian singer, Delta Goodrem dated Jonas for almost a year, but by February 2012 the couple had called it quits. It's not clear what went wrong between them, but this relationship marked a shift for Jonas in that it was his first time (that we know of) dating someone slightly older than him.
Olivia Culpo
By 2013, Jonas was dating model and former Miss Universe winner, Olivia Culpo. Reportedly, Jonas even wrote his hit song "Jealous" about a situation that occurred while the couple was out and about, the singer later admitted to Wendy Williams. However, after two years, the couple ended their relationship in 2015.
Lily Collins
A few rumored hookups later, sparks started to fly between Jonas and actress Lily Collins. A source told Us Weekly that even though things weren't serious between Jonas and Collins, "Nick really [liked] Lily." Unfortunately, things ended shortly after.
Georgia Fowler
In November 2017, former Victoria's Secret model Georgia Fowler was Jonas' plus one to his brother Joe's engagement party. Soon after, the rumors that they were dating began. Not long after, news of the "couple" died down.
Akshay Kumar
Chopra moved on to star in several Bollywood films with fellow actor, Akshay Kumar. According to India Today, a secret love affair between the two was rumored to have started after shooting their first film together in 2003. Kumar, however, was married the entire time he and Chopra worked together.
Shahid Kapoor
Very little details about Chopra's relationship with actor Shahid Kapoor are known. According to The Canadian Bazaar, Kapoor was in another relationship when the rumors of an alleged affair between he and Chopra came to light.
It seems like both Chopra and Jonas may have quite a scandalous dating past. We don't know if these two are thinking of taking the next step, but for now, they def seem to be enjoying each other's company.
Check out the "Best of Elite Daily" stream in the Bustle App for more stories just like this!