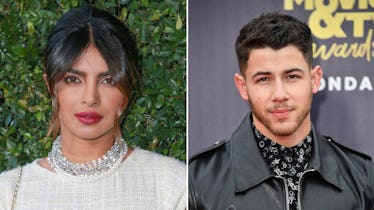 Here's Everyone Priyanka Chopra & Nick Jonas Have Ever Dated, And Wow, My Mind Is Blown
Rich Fury/Getty Images Entertainment/Getty Images and Frazer Harrison/Getty Images Entertainment/Getty Images
Let me just start off by saying that I rarely develop celebrity couple obsessions. However, all of the buzz and speculation surrounding Priyanka Chopra and Nick Jonas is truly giving me so much life. Sometimes, when a new pair gets together, it just makes sense in a way that feels right. While I have no idea what's going on between these two behind closed doors — even though I would totally love to find out, TBH — the juicy tidbits we've been privy to here and there suggest things could be getting serious. Everyone Priyanka Chopra and Nick Jonas have ever dated might not be common knowledge, but that definitely doesn't mean that we all wouldn't like to know.
Chopra and Jonas were first linked in 2017 when they attended last year's MET Gala together, all the while insisting their very couple-y appearance was purely platonic, according to Bustle. Since then, the two have reportedly been dating, but have been doing a pretty impressive job keeping the details of their relationship somewhat under wraps. That said, someone close to the pair did suggest that things could definitely be headed in a more serious direction.
"Nick is super into Priyanka," the source told Us Weekly. "But he isn't the type to rush into an engagement. It wouldn't be surprising if they eventually get engaged, but he's not the type to propose right away."
With that in mind, let's look back at the exes (both rumored and confirmed) that Chopra and Jonas were with before they found each other.