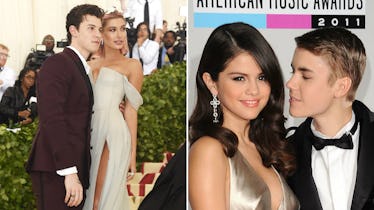 Here's Everyone Justin Bieber & Hailey Baldwin Have Ever Dated, & OMG, What A Journey
Jamie McCarthy/Getty Images Entertainment/Getty Images Jason Merritt/Getty Images Entertainment/Getty Images
As if there weren't enough juicy celebrity happenings to keep us all occupied, it seems like we've been thrown yet another bone. If you haven't heard, surprise!, Justin Bieber and Hailey Baldwin got engaged this past weekend. With this in mind, it only makes sense that we take the quintessential walk down memory lane and rehash everyone Justin Bieber and Hailey Baldwin have ever dated.
News of the singer and model's engagement came to light in the wake of a few suspiciously congratulatory social media posts made by the couple's parents. A source close to the couple reportedly confirmed their engagement to CNN. Bieber and Baldwin first started dating back in 2016, but according to an interview with GQ, Bieber wasn't ready to fully commit and didn't want to mislead Baldwin.
"I don't want to put anyone in a position where they feel like I'm only theirs, only to be hurt in the end," Bieber told GQ.
The buzz surrounding these two started up again after being spotted together many times over the past several weeks. The pair was also seen together in the Bahamas on July 6, and it was on this trip that Bieber proposed, CNN reports. Before these two lovebirds tie the knot, here's a little refresher on their respective dating histories.