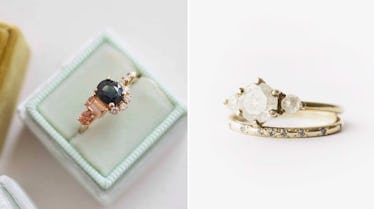 Etsy's Top Engagement Rings For The Holidays Prove Couples Are Breaking Tradition
It's almost the most wonderful time of the year — aka, time to cuddle up next to the fireplace with bae, and get caught under the mistletoe. With romance in the air, it's no wonder why this dreamy time of year is also known as engagement season. Pretty soon, you'll see more and more pics on Instagram of your friends saying "yes" to proposals. Although, you might notice something different in those heartwarming selfies this year. According to Etsy's top engagement rings for the holidays, couples are breaking away from traditional rings and opting for styles that are super unique and stunning.
Every bride is different, so why not choose a ring that represents exactly who you are? When it comes time to drop some hints to your SO, Etsy is like the maid of honor you've always wanted. From elegant and whimsical styles, to vintage gemstones, Etsy has pretty much everything your heart could ever desire in an engagement ring. When the average ring costs around $5,000, according to WeddingWire, it should be absolutely perfect in every way.
If you're looking forward to the holidays coming up, and wishing for a certain sparkly special something, maybe you'll be inspired by any of these engagement rings on Etsy. (They're downright gorgeous to look at.)