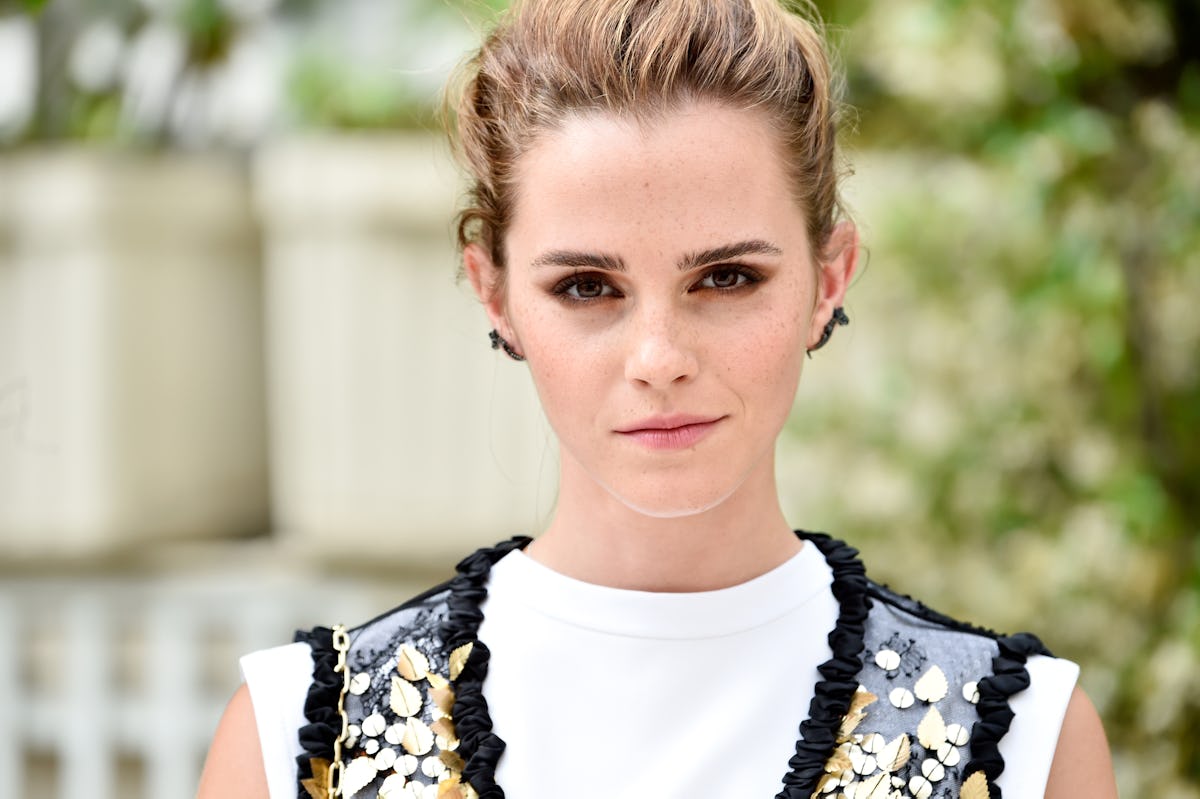 Emma Watson Is Literally Putting Her Money Where Her Mouth Is On Feminism
Pascal Le Segretain/Getty Images Entertainment/Getty Images
Just because the Golden Globes are over doesn't mean we've forgotten about Time's Up. As the British Academy Film Awards (BAFTA) airs on Feb. 18, now is as important as ever for women in Hollywood to speak up against gender discrimination in the workforce. So, Emma Watson's anti-harassment campaign donation proves that women are nowhere close to being silenced.
It's no secret that Emma Watson is an outspoken activist for women's issues. So, it's unsurprising that Watson has plenty to say on the recent Time's Up movement surfacing in Hollywood. And on the week of Feb. 14, she reportedly went a step further by donating over one million dollars to The Justice and Equality Fund, a blooming organization dedicated to changing the face of workplace discrimination, according to The Independent.
According to the UK Justice and Equality Fund's GoFundMe page, the mission of the organization is "to create the far-reaching personal, social, legal and policy changes that will ensure everyone can feel safe at work, at play and at home" through three themes, including "advice, support and signposting," "legal and policy work," and "advocacy and prevention."
As of Feb. 18 at 4 p.m ET, the fund has nearly reached it's GoFundMe goal of over £2 million (about $2.8 million U.S. dollars) — apparently with a significant amount of help from Watson herself.
Watson's contribution here is super fitting, considering her history of taking on feminist issues.
From proudly declaring "I'm a feminist" at The United Nations amid a room full of leaders, to launching the HeForShe campaign in 2014, which aims to "invite people around the world to stand together to create a bold, visible force for gender equality," Watson is a feminist force to be reckoned with. Over the years Watson has actively and consistently spoken about women's issues and self-identified as a feminist, which makes her putting her money where her mouth is feel extra awesome.
And she's not stopping. In addition to her donation to The Justice and Equality Fund, Watson also signed an open letter of solidarity titled "Dear Sisters," which was published in The Guardian on Feb. 17. British and Irish actors are following in the footsteps of their American counterparts who spoke up on Me Too by banding together to speak up against gender inequality plaguing the film industry. According to The Independent, nearly 200 stars have signed the open letter demanding the changes Time's Up promises, such as ending sexual harassment, discrimination, and abuse in their career field.
The entirety of the letter not only reveals the critical need for movements such as Time's Up in the U.K., but reveals the dark side of the British film industry from huge pay gaps to threats of sexual harassment for both men and women.
The letter read,
Here in the UK, this movement is at a critical juncture. The gender pay gap for women in their 20s is now five times greater than it was six years ago. Research in the UK has found that more than half of all women said they have experienced sexual harassment at work. A growing reliance on freelance work forces creates power relationships which are conducive to harassment and abuse. Those engaged in insecure contract work are especially vulnerable to exploitation. While we know women are disproportionately affected by this abuse, we also know there are men in our industry and others that have been subjected to harassment and abuse as part of this system of patriarchal power. And they too have been silenced. So, what is our industry's role in promoting a vision of an equal society? We believe it is huge. We believe we need to use our power as communicators and connectors to shift the way society sees and treats us. We need to examine the kind of womanhood our industry promotes and sells to the world. There is no question that Time's Up should be and will be a global movement. A movement that is defined and led by those affected by the problem, not by those in power.
The letter also addresses the BAFTA awards, and urges for those attending to stand in solidarity in order to fight the injustices surrounding the industry. Many celebrities are showing their solidarity at the BAFTAs by wearing black on the red carpet, much like stars did at the Golden Globes on Jan. 7. In addition, attendees are bringing activists and spokespeople as their dates to the BAFTAs, such as Angelina Jolie's date Campaign for a Landmine-Free World spokesperson Luong Ung. This resembles how Meryl Streep and Emma Stone brought activists Ai-jen Poo and Billie Jean King as their Golden Globes companions.
Want to know the scoop on Time's Up? Here's a full rundown on how to get involved with the movement.