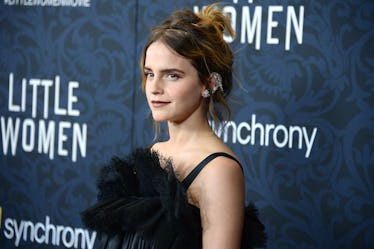 Emma Watson & Her Rumored BF Are Reportedly Engaged — Here Are The Deets
Paul Bruinooge/Patrick McMullan/Getty Images
Y'all, Beauty and the Beast has nothing on Emma Watson's real love life. Ever since sources for the Daily Mail claimed Emma Watson is reportedly dating Leo Alexander Robinton back in April 2020, fans have been eager to know more about the hush-hush relationship. But things just got even more exciting: According to The Daily Mail, Watson and Robinton are reportedly engaged. A source for the publication reportedly claimed Watson hasn't taken on any new projects since her 2019 film Little Women because she's "gone underground" with her rumored beau. "She is settling down with Leo," the source reportedly added. "They're laying low."
Not only that, but the source said Watson potentially "wants a family" with Robinton, and that's reportedly why she hasn't been working for the past year. But since everyone has been quarantining amid the ongoing coronavirus pandemic, that could also explain why Watson has put her career on hold. According to the Daily Mail, Watson even spent the last few weeks of 2020 secretly living in Ibiza with Robinton, but now it seems she's back in L.A.
And though the outlet didn't say when Watson reportedly got engaged, they ever-so-casually referred to Robinton as her "fiancé," so there's that.
Watson and Robinton's love story reportedly dates back to October 2019, when the Daily Mail published photos that seemingly showed the two kissing outside Gail's Bakery in Notting Hill. In the pics, Watson seemingly leaned in and shared a passionate lip-lock with her companion while on the phone, and according to an onlooker, the two were reportedly smiling at each other and staring adoringly into each other's eyes as they waited for a car (*swoon*).
While fans were understandably curious to identify Watson's love interest, the couple apparently made a concerted effort to keep their romance on the DL. In fact, a source for the Daily Mail reportedly claimed Robinton deleted all his social media accounts after they were seen kissing. Now that's some serious dedication. "Emma and Leo did everything in their power to keep their relationship private," the source reportedly added. The insider also reportedly noted that Watson introduced Robinton to her parents in December 2019.
So, who exactly is Watson's maybe-fiancé? According to the Daily Mail, Robinton is reportedly a California-based businessman who worked for a company specializing in legal cannabis until June of 2019. Robinton is also reportedly Watson's first serious boyfriend since her rumored breakup with Glee star Chord Overstreet in May 2018.
In an interview with British Vogue for her December 2019 cover story, Watson said she was "going on dates" but wasn't seeing "one specific person." It's unclear whether the Little Women actress was playing it cool or if things simply weren't exclusive with Robinton at that point. One thing's for sure, though — Watson has always been pretty secretive when it comes to her love life.
"I want to be consistent," she told Vanity Fair in the March 2017 issue. "I can't talk about my boyfriend in an interview and then expect people not to take paparazzi pictures of me walking around outside my home. You can't have it both ways. I've noticed, in Hollywood, who you're dating gets tied up into your film promotion and becomes part of the performance and the circus. I would hate anyone that I were with to feel like they were in any way part of a show or an act."
It seems like both Watson and Robinton are prioritizing privacy in the interest of protecting and preserving their budding relationship — which must mean that it's pretty important to them. Whatever's going on between these two, I hope their rumored engagement is very much real.
Editor's note: This story has been updated to reflect Watson and Robinton's reported engagement.
This article was originally published on