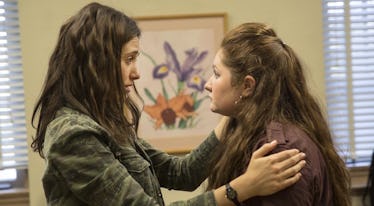 Emmy Rossum's 'Shameless' Co-Star Just Opened Up About Her Leaving The Show
Showtime
Shameless just premiered Season 9 on Sunday night, Sept. 9, and although Fiona Gallagher is still just as central to the series as ever, most fans are nervously awaiting the moment when Fiona will leave for good at the end of this season. A couple weeks back, Emmy Rossum shocked fans by revealing she would be departing from her longtime Showtime series after its currently airing season, and Emma Kenny's reaction to Emmy Rossum leaving Shameless proves that she still has the Gallagher family's support as she moves on.
For almost eight years now, Emma Kenny has played Emmy Rossum's thrifty and scrappy little sister Debbie Gallagher on Shameless, but she will have to say goodbye to her onscreen big sis at the end of the currently airing ninth season. Kenny recently told Us Weekly that Rossum has been a huge influence on the set of the show, and that the whole cast will be supporting her in whatever she decides to do next:
You know, we're all really close so we all are kind of in the same loop … We've had nine amazing seasons with Emmy helping guide the ship and I'm so grateful for that. She's been such a rock and such a focal point of our show and I think she's brought in so much confidence and given so many people a voice on our set and I'm really grateful for that. I think that Emmy's a powerful woman and she's going to continue doing amazing things in her career and life. We support her!
Emma Kenny's reaction comes shortly after Emmy Rossum surprised Shameless fans with the announcement that she would not be returning for any future seasons of the show. At the end of a long, reflective Facebook post about her time on Shameless, Rossum unexpectedly dropped the news that she will be saying goodbye to the Gallagher clan:
I know you will continue on without me, for now. There is much more Gallagher story to be told. I will always be rooting for my family. Try not to think of me as gone, just think of me as moving down the block.
But before we have to say goodbye to Fiona Gallagher for good, Shameless fans still have a super-sized season of the series with Emmy Rossum still on board. The show's ninth season will contain more episodes than any other Shameless season before it, clocking in at 14 episodes instead of the usual 12. The season is being split into two 7-episode halves, with the first chunk of episodes airing until Oct. 21 and the second half beginning on Jan. 20.
It is unclear how Fiona Gallagher will be departing from her family at the end of Season 9. Sunday night's season premiere did not really seem to offer any clues — Fiona's storyline focused on her new relationship with construction worker Ford and her struggle over whether to risk her newfound money bailing her off-his-meds brother Ian out of prison or not. Fans will just have to wait and see what will finally lead Fiona out the door. Shameless airs Sunday nights on Showtime.